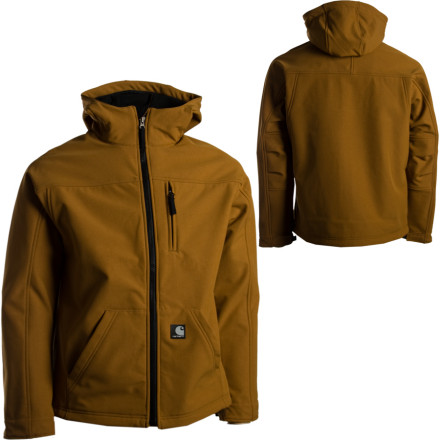 Detail Images
What do you think about this product?
Have questions about this product?
Bring it own, this is going to be one touch Softshell
I wanted a jacket, love my Carhartt pants, and this was a perfect find. Not fancy but true function like all Carhartt's, now I just want it to get cold again so I can go chop some wood in the snow with this jacket. A real deal on SAC. The size chart is true to the numbers. I like a loose fit and ordered a large based upon the chest measurements and it fit like most Carhartt's do. I almost got a XL and I would have been swimming.
unique take on a softshell
I've had this jacket for a couple years, so maybe the flaws I've experienced have been fixed. The cinch devices for the hood are crap, and there is not enough veclro on the wrists (although I have skinny wrists).

Those couple negatives aside, this is an awesome jacket for cheap. It is a softshell, but the burliest material I've ever seen on one. You could swan dive into a blackberry bush in this thing; it is definitely workwear appropriate. Repels water decently enough, and the fabric stops wind entirely. Not packable at all, but I do wear it skiing sometimes. Great for jobsites, winter bike riding, and around town. A bargain if you can get it for $90 or less.