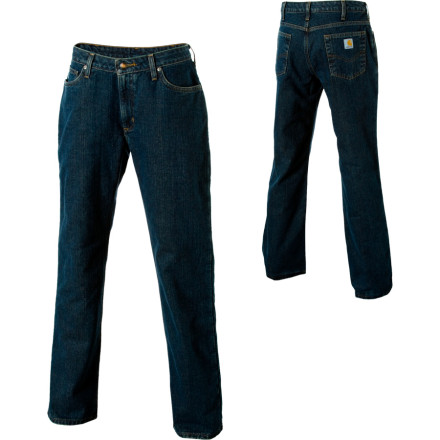 Detail Images
With Carhartt's Relaxed-Fit Flannel Lined Denim Pants, you can finally wrap your legs in the softness of a picnic blanket without unintentionally encouraging co-workers to eat lunch off of your lap. These pants might look like an ordinary pair of jeans from the outside, but with their soft, flannel lining, they'll have you feeling like you never changed out of your pajamas. The relaxed seat and thigh provide a roomier fit (gotta have room for all that flannel, right?), while the straight-leg cuffs leave space to accommodate those stunning, ruby-red cowgirl boots. Wear them on cool days when the extra warmth is a welcome change of pace.
Carhartt Relaxed-Fit Flannel Lined Denim Pant - Women's
I agree with the reviews below: these seem to run big. I got 8's and they are baggy and the crotch is a little low. But, they are warm and comfortable and that was the point in getting flannel lined jeans this past winter, so mission accomplished!
I bought the size 12 and 10. Size 10 was a little tight, 12 seemed OK... Much to my surprise, they don't shrink... Warm and comfortable...
Great quality, but definitely run big! I ordered a size 6 and they fit more like an 8. For puttering around the house and taking care of the animals, they're great. For making a fashion statement, these won't be the pants. They are "relaxed fit" which means they are pretty baggy. I like the lower waist. One size smaller would be nice.
Unanswered Question
Do these sit at the waist?
Do these sit at the waist?