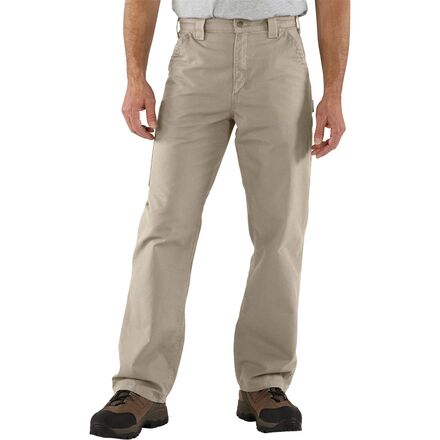 Detail Images

Community Images
So the neighbor's dog broke into your chicken coop and roughed up your hens. Sounds like a job for the traditional-fit Carhartt Men's Canvas Work Dungaree. After you lure the dog into the skunk hideout behind your tool shed and send it on home, get to work repairing the damage to your coop. The Canvas Work Dungarees are Carhartt-durable, yet surprisingly lightweight—so you can hunker down and get dirty without wearing pants that feel like plaster. Utility pockets and a hammer loop keep your tools close at hand. Carhartt designed these classic-rise carpenters with a full seat and thigh for easy use with knee pads and a wide leg opening that fits over big honkin' work boots.
These pants are great and I wish they fit me better but I had to return them. I ordered the same size that I always were in pants and they just did not fit right. I have found that Carhartts fit very differently even if they are the exact same size.
My husband wears a 42X34 pant....do you...
My husband wears a 42X34 pant....do you have this size?
Sorry, the largest waist size is going to be 40 inches and all of the inseams are 32 inches.
are all carhart pants like these waterproof?...
are all carhart pants like these waterproof? do they get heavy n itchy when they get wet?
These pants are made from cotton so they will not be waterproof. They are a bit thicker than normal jeans and will have more water resistance but will certainly soak through eventually and will get heavy and uncomfortable once they are wet.
I just picked up a pair of these for hiking and fishing in the winter months... I couldn't be happier. I had recently tried a pair of Mountain Khakis, but I couldn't justify the additional cost. I've always considered Carhartt a country-boy brand, but I suppose if they've been proven durable by many hard-working individuals... they should be tough enough for what I will use them for. The tag states they're made right here in the US. That's a plus in this day and age. Overall, I'm very pleased with the fit and room for hiking. If you're looking at a pair of Mountain Khakis, give these a whirl.
I've had Carhartt's before, ordered the 32x32 which is what my double front's are (which fit PERFECTLY), but these are so tight I can barely button them. I'm hoping they'll stretch out some, but jeez Carhartt, get your sizing consistent!
I own a couple pairs of Carhartts. They are by far my favorite pants to knock around in during the fall and winter months. They are very durable, and can take a beating. I wear them hiking, backpacking, around campus and to work on my Jeep. Very comfortable, tons of room in the knees. Definitely a must for the outdoors guy.
Hey guys,

I just checked out the new Carhartt website. It's really interactive at the beginning. There is a demolition game you can play. Overall, it's pretty cool. They redesigned it, and the site functions really easy. The product photos are amazing--great quality!

Check it out if you have some time: http://www.carhartt.com

Best,

Michael
my husband is looking for a lightweight...
my husband is looking for a lightweight pr of work pants.will these help in a shop where the temp can run to 95 and higher?
These are still going to be fairly warm, but if he needs a tough pair of pants, this is just about as light as you'll find them.
I am looking at the Carhartt canvas work...
I am looking at the Carhartt canvas work pants and was wondering if these are the pants you would wear for hunting. My boyfriend does a lot of hunting where he walks back in the woods. He has a pair of carhartt pants he wears now that protect him from the burrs. They are looking pretty shabby so I would like to get him a new pair.