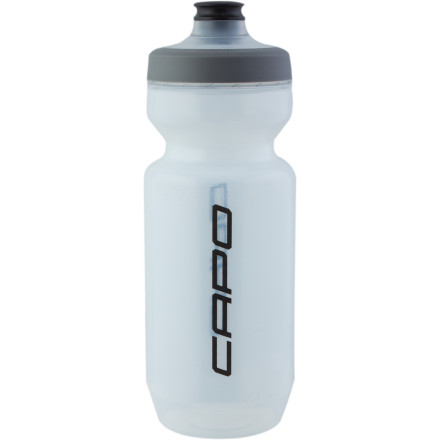 Detail Images
Staying hydrated is the difference between finishing a race and bonking out of one. The Capo Pure Water Bottle is a no-nonsense, leak-proof bottle to keep you going strong, and to ensure that you don't pass out on the road from dehydration.
The Pure Water Bottle is a 22 ounce bottle with a leak-proof top and silicone barrier. The Pure bottle has nicely understated branding to blend in with your bike. Additionally, it's made in the ol' USA, and you can't beat that.
The Capo Pure Water Bottle is available in a 22 ounce size, and in colors Clear and White. This bottle is made in the USA.
This bottle is big time. I will not be tossing the empties in a ditch somewhere.
aweome bottles, so soft in hand easy to squeeze. THERE IS NOT A BETTER CYCLING WATER BOTTLE!
Specialized Purist clone???
this looks exactly like a specialized purist water bottle... wonder if it is as good or soft.
Why does it say it's Made in the USA and...
Why does it say it's Made in the USA and Made in Italy?
Well that certainly is odd, Maybe they made the lid here and imported the rest of the bottle, But I share your confusion...
Great water bottle. Especially the valve -- easy to get lots of liquid quickly, instead of squeezing and sucking for every drop in the bottle the way some other water bottles are made. It's also a bit shorter, so it fits inside a smaller frame bottle cage.
I've used this bottle pretty much daily for the past 6 months, and it has been great. The nozzle was a bit different at first (I prefer the regular big mouth nozzles), but the magic is in the bottle. It is a Capo labeled Specialized Purist bottle. Water doesn't ever take on the flavor of the bottle; and when using sports drinks, the bottle doesn't take on the flavor of the drink (passing the flavor onto the next refill.) I'll be stocking up on several of these for the summer!