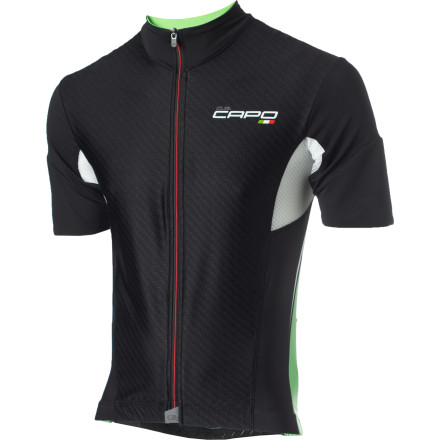 Detail Images
Placebo or not, there's something to be said for an exceptionally crafted garment that makes us look and feel fast. The Volta Jersey is part of Capo's impressive new ATS line, that helps turn those illusions of speed into realities of speed, while also doling out a healthy helping of Italian panache.
In creating a jersey that defied convention, Capo had to completely re-think the design and production processes from the ground up. The goal was to create a garment of superior quality, comfort, performance, and protection, therefore run-of-the-mill polyester or pedestrian blends of Lycra would not be good enough. Thus, the Advanced Technology System (or 'ATS') was born. The idea behind ATS was simple: Capo would create their next generation of ride-enhancing cycling garments by combining the most technical Swiss and Italian fabric stories they could find with the most advanced production methods available. You could think of ATS as a bit of Italian mad science; a highly polished experiment in conceptual performance textiles, not unlike the exotic supercars that might grace the show floors of the Geneva Motor Show. Except these exceptional bib shorts go beyond existence as a concept, and are available to the discerning public.
Like it's older brother Drago, the Volta Jersey fabric is sourced from some of the best Swiss technologies, and designed to offer you a highly elasticized, performance enhancing fit. It follows the Drago's superlative multi paneled and fully-taped construction, but utilizes a slightly heavier, albeit more durable carbon-threaded warp-knit polyester and Lycra blend. Granted, while the carbon threads serve only to expedite moisture transfer and dry time (and not to enhance durability), it's the complex warp-knit construction produces a superior durable weave which resists unraveling when torn or damaged, should you be unlucky enough to suffer a fall while wearing it. In addition to the warp-knit panels, the Volta's contrasting high-stretch panels are made with a sublimated Meryl Actisystem Lycra, which feels exceptionally soft against your skin. You may have already experienced Meryl through its application in your favorite performance socks -- the same advantages apply here: you get superior moisture transfer, UV protection, and antimicrobial properties, as well as Meryl's unique shape retention characteristics in the Volta Jersey.
The Volta is finished with a Schoeller coldblack treatment which reduces heat buildup while protecting you from the sun's harmful UV rays. This makes even black fabrics cool to the touch under the hottest sun, so you can imagine how well it assists your skin in naturally maintaining a regulated body temperature. Three generous back pockets store all your essentials, and an additional zippered security pocket stashes a phone or media player for your ride. The pockets are highly elastic, so you can load them down without worrying about compromising the jersey's fit or your aerodynamic profile. Though not compressive, in order for the jersey's fabric to excel at keeping you cool and dry, and your muscles fully supported, it needs to fit extremely close to your skin. Bear this in mind if everything seems a little tight the first time you put it on.
The Capo Volta Jersey is available in both Black/green, and Black/red. Sizes range from Small through XX-Large.
Schoeller ColdBlack fabric finish prevents heat build-up on even the hottest of rides
When in the 'unlocked' position, full-length cam-locking zipper lets you ventilate by simply pulling the jersey apart
From start to finish, the Volta kit is designed and produced entirely in Switzerland exclusively for Capo
What do you think about this product?
Have questions about this product?
This is the same fabric and construction as the Drago, with more color andat a cheaper price. Capo is the best stuff on earth when you are on two wheels. Buy it now while it's on sale. I wear Capo always, it's just that good, and I am worth it.