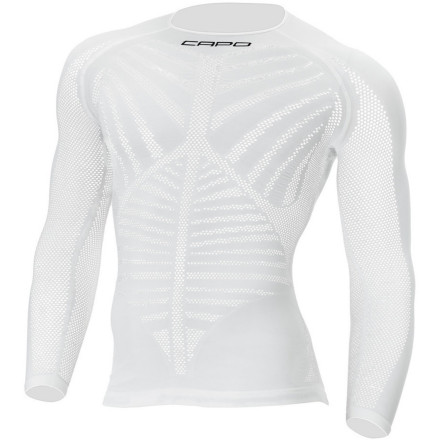 In cold temperatures, your level of preparation needs to extend past a simple jacket and gloves. Instead, to get the most out of your investment, a base layer is an essential spice to the recipe for warmth. So, when the mercury plummets, pull on the Capo Torino 3D Long Sleeve Base Layer for the ultimate in consistent warmth. Here's why.
To support you through subfreezing temperatures, Capo constructed the Torino 3D base layer from the patented Dryarn fabric. This material is comprised of a polypropylene microfiber that's at once lightweight, yet extremely effective at wicking moisture away from the skin. That's the idea at work, here. While the Torino 3D does offer a slight insulation layer, the effective dryness is what really creates your warmth. Don't believe us? Let's conduct a little experiment. First, blow on the back of your hand. Now, wet it and blow again. Colder right? Now, imagine that you're pouring sweat under your jacket and you're about to head down a ripping descent at 30 degrees. Brr. The Torino 3D pulls moisture to its quick drying surface, where it's quickly evaporated. This process leaves you consistently dry, and accordingly, warmer.
And while the Torino 3D's moisture management system is exceptional, Capo knew that the fit needed to be impeccable in order to support it. For a base layer, a gentle contact between the skin and the fabric is crucial in order for the Dryarn to perform its magic. So, Capo employed its proprietary Body Map fit system to ensure maximum effectiveness and comfort. Note the variance in material throughout the arms and torso. While this aesthetic might remind you of the weird High Road jerseys with the painted on abs, the design actually serves a function here with the Torino 3D. Those darker-looking points represent a variable density of Dryarn at points deemed crucial to protection by Capo. This system allows a tight regulation of your core temperature per muscle grouping without the running the threat of overheating. Additionally, the design's light compressive quality also promotes an enhanced circulation to dissipate the buildup of muscle-cramping lactic acids.
The Capo Torino 3D Long Sleeve Base Layer is available in one size and in the color White. For maximum effectiveness, Capo suggests wearing this base layer in temperatures ranging from 30 to 40 degrees Fahrenheit.