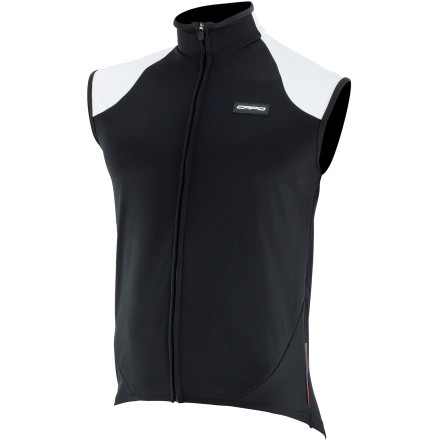 If you ride in a climate that could be considered as temperate, a winter jacket is too far-reaching for the amount of protection that you actually need. In fact, a vest and warmers suffices for most during the shoulder seasons and warmer winters. So, before you head out on crisp morning, either wear or stow the Capo Serie A Wind Vest. With a lightweight, breathable construction, the Serie A's wind- and water-resistant membrane will keep you riding dry and protected -- not hot and drenched.
Being part of Capo's Corsa Series, the Serie A Wind vest maintains a cut-no-corners approach to fit, material selection, and insulation. And in accordance to this philosophy, Capo constructed the vest from the water- and wind-resistant WindTex fabric. This material not only performs the aforementioned, but it also protects while retaining a light overall weight and high level of breathability. So, when the temperature drops during a ride, you can layer up and stay protected without drowning in sweat.
For the fit, you'll find that Capo cut the Serie A vest more in tune with a jersey than outerwear. The bottom hem is cut on a curve to provide comfort in the cycling position. Also, the curve extends to rear of the vest, which has been elongated to to withstand the turmoil of wheel-spray. Multiple panels are used for the construction, which means that the Wind Vest is designed to move with you, not the the other way around. For extra protection from the elements, the neck has been heightened, and the arm holes are angled off of the shoulders to prevent rogue drafts from infiltrating your insulation layer.
The Capo Serie A Wind Vest is available in five sizes from Small to XX-Large and in the colors White and Black. Please note that Capo has determined that this vest operates best at temperatures between 45 and 55 degrees Fahrenheit.