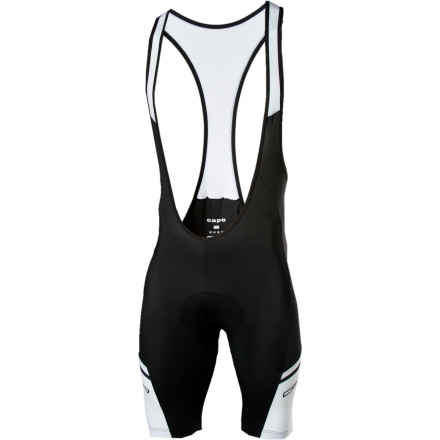 Detail Images
Like the venerable Modena kit, the Capo Serie A Bib Shorts are part of a quintessentially classic summer collection for your club rides, brutal training days, or just those slower-paced, savory outings with your significant other. True to Classic Capo style, the Serie A are part of their own kit, but would perfectly match up with both the Modena or Pursuit lines to expand the possible combinations of a carefully coordinated and rotating collection of kits -- may we recommend having one for every training day during the week?
The Serie A Bib Shorts use Power Lycra with panels that wrap around the quads. This gives a subtle degree of compression that will help keep your muscles fresher for longer. These are seven-panel shorts: three per leg, with a panel across the lower back. The bib harness uses Capo's lightweight V-Mesh, which provides a no-fuss level of comfort and breathability. The chamois in the Serie A is Capo's Anatomic L HD Carbon EIT Insert. This is a simple pad relative to what you find in other Capo shorts, but it's pretty sophisticated when you compare it what we used to think of as a regular chamois. First of all, it stretches -- which is not a big deal, unless you know that many pads don't stretch. It is open-cell foam bonded to a soft, anti-microbial micro-fiber layer that has carbon fiber threads woven in to expedite moisture evaporation. A perineal channel for pressure relief runs front to rear between raised pads in the chamois. And, as with all EIT pads, this one is shaped as it's being molded; it's designed to curve around your body, not sit flat in a box.
The Capo Serie A Bib Shorts are available in Black with white accents. Sizes run from Small to XX-Large.
Anatomic-L HD Carbon EIT Insert is seamless and molds to the contours of the body for comfortable hammering even after several hours in the saddle
Silicone leg grippers prevent the bib shorts from shifting
Power Lycra is sits comfortably against skin for ultimate sleekness
Flatlock seams won't irritate skin
What do you think about this product?
Have questions about this product?
Although the Serie A line is part of Capo's lower tier of kit, these are among my favorite bib shorts. This is mainly a function of the pad, although the appearance of the shorts is nice too. The pad is perfectly proportioned and comfortable, and I have yet to get any kind of chafing wearing these. That's really about as much as you can ask for in bib shorts.



Although not a problem for me, the straps can be a little snug if you're taller than average. If anyone finds this irritating, a warm weather base layer will cure what ails you. :)
I only gave it 4 stars because i'm assuming there's better stuff out there. I have no complaints with the bibs, comfortable and fit well. As was said before they match well with the Modena jerseys. I've been pleased with everything I've purchased from Capo and appreciate their simpler style.
What I love about this bib is its price and the fact that it uses practically identical chamois as Capo's more expensive bib found in the sc-12 bib which i also have and love too. Doesn't hurt that this will also match with the already popular modena kits