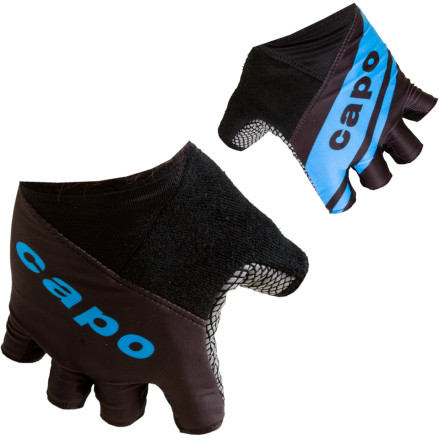 Detail Images
The classic styling of the Capo Riserva Cycling Gloves evokes earlier, innocent days of cycling bliss while the modern materials and attention to detail will keep your hands happy over the roughest roads. The uppers have been made from a super breathable but durable and stretchy Lycra with a strategic mix of mesh so that your patties won't get too hot. The thumb area has a generous portion of terry cloth to help wipe sweat from the eyes and moisture from the nose without scratching or irritating these tender areas.
The palms have been reinforced with a multi-density padding that will help ward away numbness, but it's not so thick as to be irritating. We hate to have the feel of the handlebars cushioned too much, reducing the immediacy of the handling. The Riserva Gloves walk a perfect line between comfort and obtrusiveness. The rubberized palm pattern gives you more grip, especially if you get stuck in an unexpected rain storm.
The sleek design features a discrete pull tab and foregoes the typical Velcro closure, of which we highly approve. Now you won't be accidentally snagging your best Lycra shorts with your imperfectly closed Lycra tab. Just pull them on and luxuriate in the very PRO appearance. Black with a splash of Blue Capo logos on each upper, the understated graphics of the Capo Riserva Cycling Gloves will suit the rest of your Riserva kit or stand perfectly well on their own. They're available in Small through XX-Large sizes.
A rubberized palm pattern gives you a solid handlebar grip
Stretchy, breathable Lycra and mesh fabric prevent over-heating paws
A reinforced palm pull-tab makes it easy to don this glove
Capo gloves; slip and slide
I bought several pair of gloves last week and thought I would try these less expensive Capo gloves. I liked that they had no velcro and had the tabs to use to remove the gloves.

I was using them this morning and discovered that they don't grip well when wet. I have lizard skin tape on my bars which is pretty grippy to most things. The surface material of the capo gloves doesn't grip them well at all.

The padding isn't bad and the fit is good. Just don't expect them to be grippy in the wet.
Anyone know how the sizes on these run? ...
Anyone know how the sizes on these run? I typically take a XL, but some brands are pretty tight...
Hey rle4770620,

Good news. I did some digging and I was able to find a sizing chart for the Capo Riserva Cycling Glove - Men's. I'll put it below and it goes by hand circumference:

S: 7"
M: 8"
L: 9"
XL: 10"
XXL: 11"
These are now my first choice gloves, and I have lots of gloves. They look great - I love the asymmetric design and colour scheme. The padding seems over-the-top at first but the cutouts help the palms to wrap around your bars and the padding cushions road buzz without road feel being too muffled. (If you dislike padding of any sort, stay away though - these are not for you.) I ordered my usual size L which came up a bit snug but I expect XL would be too loose. The pull tabs are necessary, and sturdier than some other companies', but you still need to remove the gloves with care or you risk breaking stitches. In colder weather you may want more protection than is offered by the lycra backs. The advertising copy given in the description is spot-on and at $20-25 these are good value.
Look cool, feel comfortable.
First off, these just make you look like a bike messenger. The strategic padding is pretty nice and it's really well ventilated. The terry cloth is quite a nice touch. The claspless design fits really well. I'm not sure I'd be down for paying full-price as some of the padding feels a little cheap, but as I did off off bonktown I'm very pleased with them.

My only concern is how well they'll hold up to time, and I have no idea because it's only been a week. We'll see.