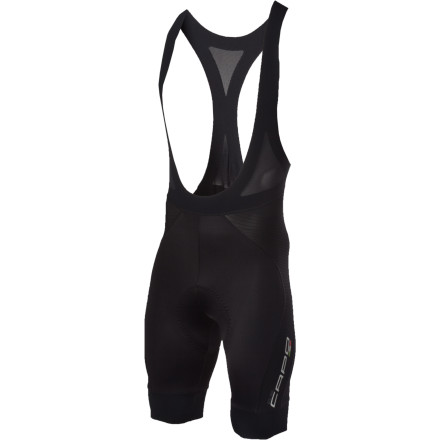 Detail Images
Description
Remind the ones held back.
Since the Padrone Short Sleeve Jersey represents Capo's best efforts at fit and comfort to date, the only way to have matching bib shorts was to push their design to new levels to match it. The Padrone Bib Shorts are that next level.
The fit has been refined from their super corsa paneling design. There are ten panels in the shorts rather than eight, with flat lock seams holding them all together. The seams running down the front of the legs have an even greater curve than you're used to seeing. The reason for this is that the curved panels here are designed to reduce the potential for gapping and bunching of fabric to nearly zero. They've also split the side panels in two to create a better fit than ever before.
As Capo found success in using several kinds of stretch fabric in their Padrone Jersey, they've continued this trend with the shorts. The center and inside panels are made of HG Lycra. This is a highly compressive spandex that is very abrasion resistant. The HG has also been treated with Coldblack as part of the dyeing process. This is a treatment that won't wash out. The magic of Coldblack is that it is able to dissipate heat better than other stretch fabrics by reflecting the sun's rays off the Lycra rather than absorbing it, which means you'll feel cooler and perform better as your body heats up. The side panels are Carbon Lycra, a high-compression Power Lycra featuring carbon threads for anti-bacterial properties. The leg bands, which replace grippers, are made of Capo's Dual-Ply Power V material, with Power Lycra on the outside and V-Mesh on the inside. The Power part adds compression and the mesh gives you wicking potential.
The bibs have also gone for some improvements. They've bonded their traditional V-Mesh bib fabric with 190g Lycra for better-controlled vertical stretch. While it might be hard to see in the images, there are actually cutouts on the inside to minimize the feeling that you're wearing bibs.
The Capo Padrone Bib Shorts come in Black and are available in sizes running from Small to XX-Large.
Schoeller ColdBlack treatment resists heat buildup, keeping you cool on the hottest afternoons
Premium high-gauge Lycra grips and supports key muscles during harder exertions
Anatomic-4G Carbon EIT insert offers supreme moisture management and perineal support on your longest rides
Share your thoughts
What do you think of the
Capo
Padrone Bib Shorts
? Share a...
Great Bib Shorts!
Familiarity:

I've put it through the wringer
i am 6', 158 lbs, and the medium is a great fit.
The chamois is great, and the fit is perfect. Fell in them and they did rip a little, but, I intend to wear them out.
I really love this product and recommend it.
The best shorts I own
Gender:

Male

Familiarity:

I've put it through the wringer
The fit and finish is outstanding. The moisture wicking is great and the muscle compression is top notch! From the minute I opened the package I could tell the quality was top notch. And the technology of the materials is better than any other brand. Bought the whole kit, winter and summer.
just like others commented, this bib has a terrible fabric edge that actually cut into my skin (blood and "teeth" marks) after a long ride. Al other capo stuff that I have is very good and I have no complaints, I thought I was getting the best (it is expensive also) but maybe is just a bad production batch!
Only Good for the Super Tall
I regret giving these a bad review but for two reasons. 1) I am 6 feet and 182 pounds and the Large is skin tight but tolerable. Yet the bibs have a two inch piece of fabric that extends below the gripper which goes practically to my knee. The XL would be another 1/4 inch longer. 2) The edge of the fabric at the end of the bib is quite rough and irritates the skin. Very disappointed as the Padrone Jersey is the best I have ever worn. Would have loved to have a matching kit as it is very sharp looking.
From one Capo to another!
The best bib you will ever own! Italian quality and materials that are second to none. You get what you pay for. Really built for the long sleek body frame. 6'2", 185 lbs., and 34" waist=XL. Perfect fit, long legs and plenty of compression. 75 Miles, no problem. The straps are unique in that they do not bind and are positioned so that there is no rubbing. Perfect with the Padrone jersey.
I'm 6'3", 195 lbs w/ a 34" waist and the XL fits me perfectly. I normally wear XXL in Capo, but I've been finding the XL in the 2012 Capo lineup fits me perfectly. The first thing that stood out to me with these shorts is how light they are. But don't mistake light for not being durable. These are solidly constructed with strong stitching on the seams. The material is unlike any shorts I've seen before and once I tried them on, I really appreciated the technological advances by Capo. No silicon leg grippers, but these stay in place during all the rides I've taken. The straps are not your typical straps, as they are not mesh, but hold everything in place and I forgot about them once I was into my ride. The chamois in these is the best I've ever ridden and I wish they were in every pair of cycling shorts I have. I have a very sensitive taint and can tell within 5 minutes of my ride if the chamois is going to work or not - these definitely passed the test!

I took these on a real test last Saturday by riding 50 miles in 95 degree temperatures. First off, the cold black material definitely works! I wore the Padrone bibs with my white Capo Modeno jersey and the jersey actually felt warmer than the shorts! The black material did not heat up at all and kept me cool and dry! The carbon chamois kept everything down below dry as well. These shorts excelled at the 50 mile distance and would no doubt be great at 100 miles and beyond!

The inseam on the Padrones are longer than average, but I found this helped provide better compression and also since they are UPF rated, protects more of my legs against the sun.

Bottom line, these are the best bib shorts I own and highly recommend them. I also own high end bibs by Castelli, Panache, etc and the Padrones are top notch! I even compared the Padrones to the Capo Drago bib shorts and preferred the chamois of the Padrones.
Unanswered Question
What is the inseam length of these...
What is the inseam length of these shorts?
Great bibs !!! Got a pair a month ago. I thought the fit was too tight and felt odd, until about 1/2 hour into the first ride, then it felt like they disappeared and molded to my body. 6'1" 215lb, bought XL. My favorite bibs, hands down. I love the look of Capo gear, not flashy.
I am 5'10 and 160, any suggestion on...
I am 5'10 and 160, any suggestion on sizing?
I'm 6 ft, 180, and I wear XL in Capo (I could possibly go to L). I'd say go by the size chart.
hi, eric. i'm 5'10'' and 145. i wear a small. i'm thinking a medium might work well for you.
Just bought one in size M and fit me well. I'm 5'8 at 158 lbs. Haven't used it but loving the quality and feel so far.
Just bought one in size M and fit me well. I'm 5'8 at 158 lbs. Haven't used it but loving the quality and feel so far.