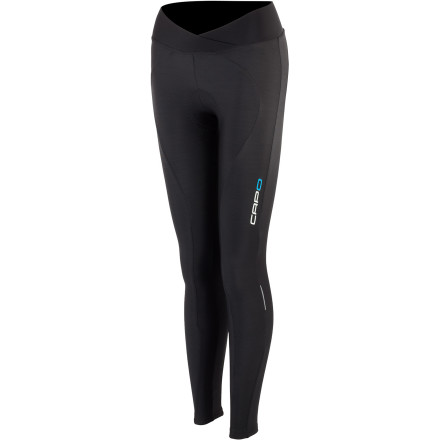 Staying warm on the bike during the winter can be a challenge. Though your ride may not be more than an hour or two, you want enjoy your time in the saddle, not just endure it. Ward off the nipping of Jack Frost by slipping your legs in a pair of cozy Capo Modena Donna Roubaix Tights. Made with moisture wicking, winter-weight fabrics and a body contouring fit, these tights will keep you warm when the mercury dips
The Modena Donna Tights are part of the Corsa Series. The tights are constructed for warmth and comfort using Thermo Roubaix fabric. Thermo Roubaix is woven using hollow-core fibers that are brushed on the inside, creating a fleece-like inner layer that holds air for warmth. This next-to-skin insulating layer keeps your legs warm by trapping the warmth your body creates. The panels of Thermo Roubaix are sewn into an anatomical fit for riding. Standing up, you may feel the tights pull slightly, but get on your bike and you'll feel how they move into place when you're in a riding position. If you look closely at the tights, you'll notice there are no seams over the knees or the inside of the legs. Instead, the seams sit towards the outside of the legs, away from areas where they tend to irritate. Capo uses a wide, yoga-pant like waistband on the Modena Donna Tights, the same comfortable waistband that is used on all of their women's shorts and tights. The wide waistband doesn't cut into your stomach, and sits slightly below your natural waistline.
Capo uses the Women's Veloce HD chamois in these tights. Though the chamois is made for shorter rides, Capo designed it to protect much like the long distance-focused Giro HD Carbon chamois– utilizing Elastic Interface Technology and an Italian made microfiber top. The chamois is constructed with high density foam positioned under the sit bones for comfort and protection from the saddle. The padding thins out towards the perineal area and sides of the chamois, where high density foam isn't required. The chamois is finished with a soft microfiber top that sits comfortably against the skin and wicks moisture away for evaporation.
The Capo Modena Donna Roubaix Tights are finished with reflective accents on the legs to increase your visibility to motorists in low-light conditions. They come in Black and are available in four sizes, X-Small through Large.