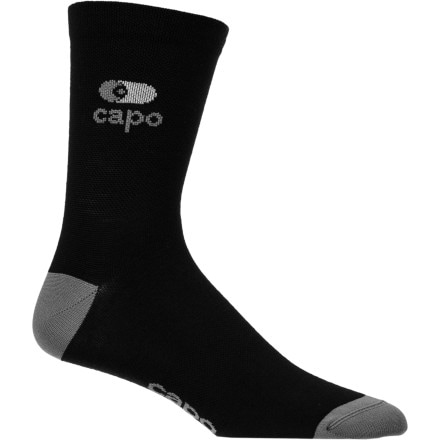 Detail Images
Contrary to popular belief, the right wool is exceedingly comfortable in hot conditions. In fact, it's actually comfortable in every condition. However, the question begs to be asked, what exactly is the 'right wool?' Well, it's New Zealand's Merino wool. And not surprisingly, Capo harnessed the power of this material for its new Euro Seasonal Wool Socks.
To achieve this level of conditional flexibility, Capo used a thin-gauged Merino wool for the socks' construction. This eliminates any itch that you might associate with wool. But, now that we know what the Euro socks are made from, let's examine why wool is used in the first place. As we said, the material is non-abrasive, but the benefits don't stop there. Merino wool is what we call a 'hydrophilic' fiber, meaning that it has the natural ability to positively interact with water. In fact, Merino is able to absorb as much as 30 percent of its weight before exuding the sensation of wetness. Additionally, it's naturally antimicrobial, so you'll experience next to no stink from the socks. This property is furthered by Merino's natural ability to disperse electrostatic charges. So, the Euro socks will pick up less dirt, grime, and lint in the first place.
In terms of all things 'Euro,' these socks have been aptly named due to their 12cm-high cuff. And unless you've been living in a cave, you've noticed that this is the height du'jour in today's peloton.
The Capo Euro Seasonal Wool Socks are made in Italy and are available in the color Black and in the sizes Small/Medium and Large/X-Large.
Share your thoughts
What do you think of the
Capo
Euro Seasonal Wool Socks
? Share a...