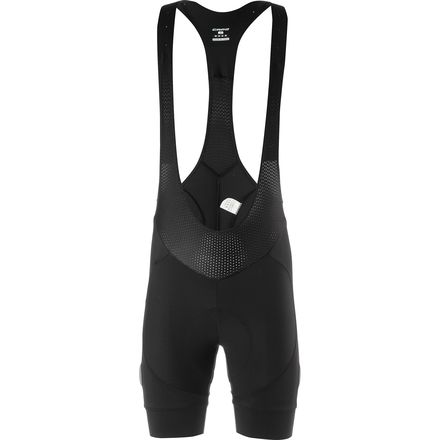 Description
Deliver the KO just like Drago.
You don't wear the Capo Drago 2.0 Bib Shorts to go unnoticed. You wear them with that glimmer in your eye that says you've got something up your sleeve. Their racy, "painted-on" fit and menacing red stitching certainly draw attention, but a deeper inspection reveals a highly technical pair of shorts that easily rival any other bibs currently on the market.

The Capo Drago defies bib short convention. Capo completely rethought its design and production process from the ground up to create bibs of superior quality, comfort, and protection. Because of this, run-of-the-mill polyester or pedestrian blends of Lycra would not be good enough. To this end, the Advanced Technology System (ATS) was born. The idea behind ATS was simple: Capo would create its next generation of ride-enhancing cycling clothing by combining the most technical Swiss and Italian fabrics they could find with the most advanced production methods available. You could think of ATS as a bit of Italian mad science that is available to the discerning public.
Conventional bib shorts may be constructed from a singular Lycra blend with weaves varying anywhere from 15- to 30-gauge (traditionally recognized as a "high gauge") Lycra. To scale, a medical-grade compression garment might use a 70-gauge Lycra. Striking a perfect balance between the two are the Drago 2.0 Bib Shorts, which are sewn from a Swiss-made, 50-gauge Lycra. This dense weave ensures that supportive and compressive fit, without being too restrictive. The side panels of the shorts are reinforced with an antimicrobial carbon fiber threading that expedites dry time and serves to re-illustrate that Capo has spared no expense in the engineering of the Drago. Capo has also engineered a new and super comfortable harness-style bib upper exclusively for both the Drago and its little brother, the Volta. These harness straps are composed of a lightweight eyelet mesh bonded to a brushed microfiber, which is then seam-taped and laser cut. The resulting straps are buttery smooth against your skin, and very low profile — ideal for an abrasion-free and highly breathable fit beneath the sheer Drago Jersey.
At the heart of the Drago is Capo's top-shelf Anatomic Strada HD Carbon EIT Insert. In addition to the pad's multi-density anatomic construction, you also get two additional high-density perineal inserts to give precise support on longer rides. Again, antimicrobial carbon fiber threads are woven throughout, helping keep the chamois dry and funk-free. For many of us, this can mean the difference between nursing a painful saddle sore, and crossing the finish in first.
Capo finished the Drago 2.0 Bib Shorts with a Schoeller Coldblack treatment to assist your skin with temperature regulation, while protecting you from harmful UV rays. Even though the Drago shorts are only available in Black, the Coldblack ensures that even under the hottest afternoon sun, the fabric resists heat buildup and should remain cool to the touch. The laser-cut leg bands on the Drago are infused with a unique silicone treatment to more effectively keep the hem in place while you ride. Due to the shorts' compressive fit and tacky nature of the silicone, Capo recommends (and we completely agree) rolling the hem over while putting the shorts on, then rolling back on to your skin once you have the bib comfortably situated.
The Capo Drago Bib Shorts 2.0 are available in sizes Small through XX-Large and in the color Black.
Share your thoughts
What do you think of the
Capo
Drago 2.0 Bib Shorts
? Share a...