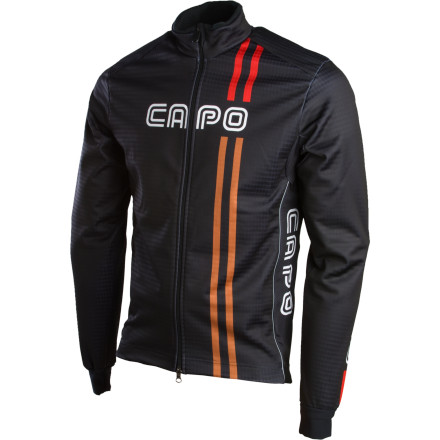 Detail Images
Our favorite thermal jackets have always been those that remind us that the winter is for base miles. Done right, a thermal jacket will keep you perfectly comfortable as you knock out kilometer after kilometer with your heart rate in the basement. They also serve as an excellent reminder if you try to go too hard for base -- they heat up like an August afternoon.
The Capo Dorato Thermal Jacketis perfect for riding in cool and/or damp conditions. The front and arms of the jacket are cut from Brick, a polyester fabric backed with a windproof and waterproof membrane. It gets its name from the appearance of the fabric -- it looks like a brick wall. Winter Micro Quattro makes up the back, armpits, and side panels of the jacket. It's designed for warmth and easy moisture transfer; after all, you're only as warm as you are dry. This jacket is warm enough to wear into the mid 40s.
To prevent airflow into the jacket Super Roubaix snugs the sleeve cuffs and Brick backed with fleece keeps the collar comfortable. Three rear pockets give you all the carrying capacity of a good jersey. A two-way locking zipper allows you to dial ventilation on the fly, even unzipping from the bottom to indirectly ventilate your torso without chilling your neck. Reflective inserts at the back will ensure that you're seen whether it's early or late in the day, and keeping those elements in place is a Jacquard waist gripper.
The Dorato Thermal Jacket comes in Black or White and in five sizes from Small through XX-Large.
What do you think about this product?
Have questions about this product?
My "go to" winter riding jacket
At 6'3" and 195lbs with a 34" waist, I went with the XL for a tighter race fit. I'm finally convinced that tops, specifically jackets, fit much differently when you are standing around than when you are on the bike. I prefer my jackets to fit tightly without many folds or parts of the jacket sticking out only to cause noise when it flaps around.

I ordered this jacket in white and I have to say it's VERY nice looking in person. I got this jacket to wear on rides when it's 40-55 degrees outside, altough 55 may be on the high side. The nice thing about this jacket compared to the Modena, is that this jacket is fully windproof on the chest/front, as well as the sleeves. The inside material is a soft, fleece waffle like fabric. The 2 key features of this jacket I love are the higher collar and the thick, elastic sleeves. Both of which are great features to have on colder rides.

I'm sold on Capo style and quality and when you can get a deal from Realcyclist.com, you cannot go wrong whatsoever. Sure it's spring time right now and you may not want to spend your $$$ on a winter jacket, but once fall rolls around you'd be happy you made the purchase.