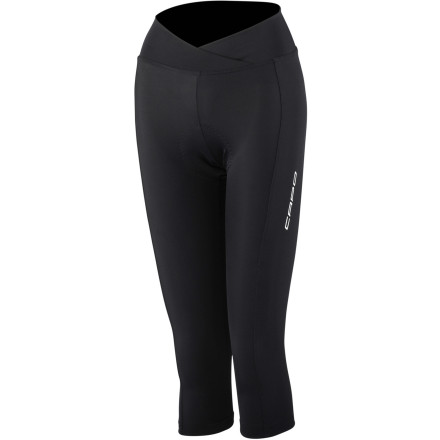 As the winter starts to roll into spring, leg warmers start to become a hassle. Sure, you may need them for the first few minutes of your ride, but after that, it's just more stuff to put into your already overloaded pockets. The Capo Modena Donna Knickers are an ideal cool-weather option when all you want is a little more coverage on your knees.
The Modena Donna Knickers are constructed from Power Lycra, a comfortable and supportive fabric that breathes and moves with you. The material is cut into anatomically contoured panels that are sewn together with flatlock seams. Capo uses its signature crossover waistband to keep the knickers snug around your waist without digging or pinching. Additionally, gripper dots around the hem of the legs hold the knickers in place on your lower leg.
Capo used a chamois that is an Italian-sourced, women's-specific Veloce HD EIT insert. This multi-density pad has been shaped so that it provides support for your sit bones and padding for soft tissue. The central channel provides maximum airflow and is designed to stretch and move with you. This level of comfort and support is as ideal for an all-day century ride as it is for a quick power-hour in spin class.
The Capo Modena Donna Knickers come in Black and in the sizes X-Small through Large.