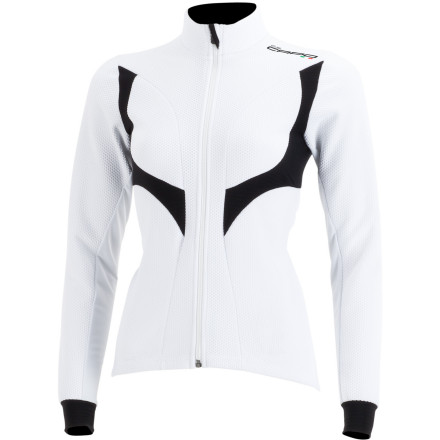 Cipressa. It's a name that places phantom pains into the legs of Milan San Remo racers past. Situated around 30 kilometers from the finish finish line, the Cipressa climb pitches straight up for almost six grueling kilometers. So, it was only fitting that this name grace the Capo Cipressa Thermal Women's Jacket. Basically, it embodies the spirit of the piece. The Cipressa is lightweight and breathable enough to get you through rigorous exertions dry and comfortably, and it's strong enough to protect you on the freezing descent afterwards. Throw in an anatomically designed fit, and you have one jacket that will conquer all of winter.
Capo's Cipressa Thermal jacket falls under what it calls its Gruppo Sportivo, or GS Series. Designed to 'push-the-envelope' of cycling apparel, the GS series receives Capo's most advanced materials and construction techniques. Basically, it checks all of the boxes on your wishlist -- compression, comfort, support, flexibility, and warmth. So, toeing this line, the Cipressa was constructed from a blend of Capo's fabrics -- Shark, Super Roubaix Carbon, and Windtex. Starting with Shark, this material strikes the ideal balance between insulation and breathability. Operating as a membrane between the skin and the elements, the fabric regulates the internal temperature of the jacket by releasing excess heat between the material and the skin. But mainly, this system promotes warmth by keeping you dry. Don't believe us? Time for an experiment. Blow over the top of your hand. Now, wet your skin and blow again. Colder right? That's why Shark's composition favors a lightweight, softshell design over bulky, fleecy fabrics. Shark is not only wind-resistant, but Capo made sure that it was water-resistant, as well. Match that with a slim cut from hem to hem, and there's not a chance that rain or snow is getting in. And to be completely certain of this, Capo integrated the windproof Windtex fabric throughout the jacket.
In addition to prepping for the elements, the Cipressa has been designed to be highly malleable in order to complement the cycling-specific flexibility of the GS series. Capo made the Cipressa with a lengthened rear hem, a multiple panel construction, and pre-shaped sleeves. The idea was to complement the female body in motion, and by doing so, reducing any possibility of abrasion along the way. Even further along these lines, Capo incorporated Super Roubaix Carbon lateral stretch panels. This microfiber has a four-way stretch construction with elements of carbon fiber within the composition. This gives the material a natural anti-microbial characteristic that will fight off odor-creating bacteria. Altogether, it's plain to see that the Cipressa looks more like a technical long sleeve jersey than a jacket that protects down to 35 degrees Fahrenheit.
The Capo Cipressa Thermal Jacket is available in four sizes from X-Small to Large and in the colors Black and White. For maximum effectiveness, Capo suggests wearing the Cipressa between temperatures of 35 and 45 degrees Fahrenheit. Every Cipressa jacket is made in Italy.