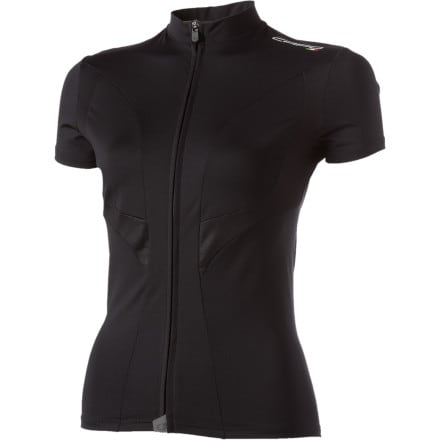 Detail Images
Description
Inspired performance.
You know the Cipressa as a climb. But it's also a fast climb. More than a false flat, but less than a wall; if you're feeling good, this is a great hill to feel gravity along with the wind in your hair. It is also a place where Capo's Cipressa Women's Short Sleeve Jersey excels.
The Cipressa Jersey is light, breathable, and sleek. Most of the jersey is Made from HSC fabric. It is lightweight and has great wicking, so it will feel nice against your skin even when you've been perspiring all day. In addition to the stretchy HSC panels, there are Silver panels in front and under the arms to help with reduction of bacteria build-up, as the Silver material is woven with silver fibers into the fabric for natural odor-fighting qualities.
There's a full-length lockable hidden zipper. Flip the tab up and you can slide it easily; you can open it just by tugging on one side of the jersey. Flip it down, and it's locked into place. There are two pockets to best fit your back and the five-panel silhouette Capo has developed. For more comfort, Capo has deliberately skipped sewing in a gripper or elastic at the waist hem. The Capo logo is screened onto the jersey above the pockets and the GS Capo aegis is on the left front of the jersey just above the waist hem.
The Capo Cipressa Women's Short Sleeve Jersey comes in Black, Red, and White. Sizes run from X-Small to Large.
HSC with silver in the fabric regulates your temperature by conducting heat away from the body when it's hot and reflecting heat back towards your body when it's cold
The added silver microfibers also inhibit bacterial growth so you won't have to ditch your jersey before stepping onto the podium
Full-length locking zipper makes getting ready simple and gives you control over how much fresh air you want
Double back pockets hold essentials