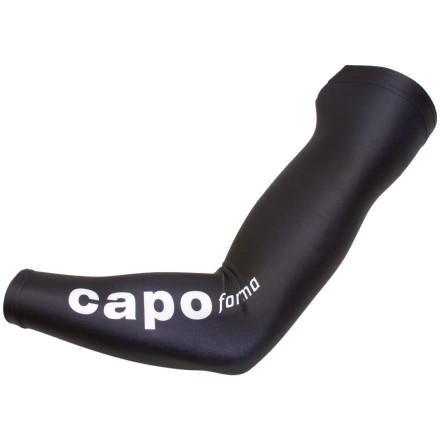 Detail Images
Description
Ride comfortably in a wide range of temperatures with help from the CapoForma Lycra Arm Skins.
The CapoForma Lycra Arm Skins allow you to add and remove insulation for that ideal balance between freezing on the first mile of a ride and sweating like crazy on the last. Slip on the Lycra Arm Skins to keep the goose bumps away during chilly morning rides. Strip them off after the first hour to stay cool as the weather improves.
The CapoForma Arm Skin is great for what it is - quite thin arm protection. I actually bought them with UV protection in mind, but you can do this with a long sleeve jersey. They are perfect though for descents when it is just cold enough to catch a chill or that mid 50 - low 60 temp range. If you are looking for a cold weather solution, look elsewhere. That said, I really like them, they are comfortable and stylish and work as advertised. Go one size smaller than what you would normally order if you have a thin build.
I ordered these in Black (size Lg) and am happy with them. I am 5' 9" and 150Lbs distance runner...with an slim/athletic build and the size Lg is just a little long in length. The overall fit is perfect and I really like the fact that the wording/graphics are not heat transferred or silk screened, they are actually part of the fabric in a different color...good thinking. I had to remove the annoying red tags on each skin...very annoying after mile 10 or so...I would buy again (only in Med)...
These are great for 50-65 degree weather here in Chicago. Anything cooler I would recommend something with a little more of a liner. Outside of that, they feel awesome and look great with my other Capo gear.
Does the "Capo" imprinted on the sleeve?...
Does the "Capo" imprinted on the sleeve? If so, does anyone know if and where I can find some white ones without any advertising imprinted. Thanks, TM
I talked to Live chat. Capo is printed on the sleeve.