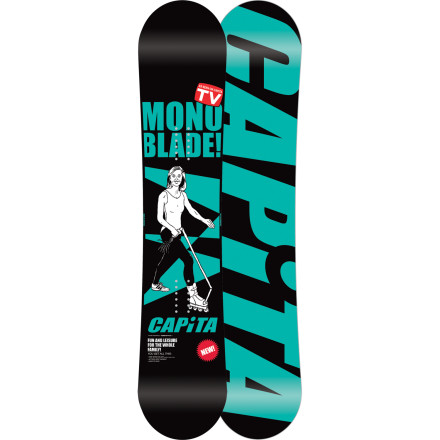 Detail Images
HEY THERE extreme-sports fans, Capita here with another GREAT OFFER. Are you looking for the perfect training partner to take your RADICALNESS to never-before-seen heights? Do you love soft, jibby boards but hate looping out on landings? The STAIRMASTER snowboard's mellow flex and poppy camber profile is virtually GUARANTEED to make your life 164% awesomer than ever before. BUT WAIT—that's not all! If you call in the next 10 minutes, we'll throw in the burly WDT Jib core and Anchormat tip and tail protectors at NO EXTRA COST. That's basically a $325,387,298.99 package, all for the low, low price of ONLY $399.

Traditional camber profile for locked-in slides, pop off kickers, and reliable control at any speed
Biaxial fiberglass on both sides of the core for a forgiving flex that's easy to manhandle
Anchormat tip and tail protection guards against delams and impact damage
WDT Jib core uses engineered wood composite for durability and a buttery, smooth flex
Radial sidecut for predictable turns both regular and switch
Extruded base is durable, consistent, and easy to repair in your garage at home
Loved it
Familiarity:

I've put it through the wringer
This board is awesome, it's a little bit soft for my liking but I like a really stiff board. I rode park and street over 100 days this year and loved it. The edge did break under my right binding, but I could still ride it. I'm 6'2" 140 lbs and had a 152
I'm 6 feet tall, weight 175 and have a...
I'm 6 feet tall, weight 175 and have a size 11.5 boot. Would you recommend the 156 regular or wide model? I'm looking to do jibbing, buttering and jumps
I would go with the wide version.
Great board
Familiarity:

I've put it through the wringer
I'll start by saying that this board is amazing, the pop is terrific and the traditional camber really helps with that. The only downside is that the board wont last very long. I had multiple parts of the edge break. Other than it not being a board that will last a long time I will recommend it.
The deck graphic is sweet and original. The board is pretty soft for standard camber boards. Good buy for the price. Highly Recommended
I like this board a lot. Broke it in and its still riding good with good pop. Its pretty stiff and im a big fellow 250lbs on a 159 and it doesnt press to well but jumps great and i like the camber feel for all mountain riding. not so much of a park board from what i have experienced
Why It's Awesome: As a cult favorite among the CAPiTA team, the Transworld SNOWboarding Good Wood winning Stairmaster rips like no other board near the price. Featuring bombproof construction and a new lowered camber, these boards are smaller, wider, softer, and designed for maneuverability around the park. The WDT Jib Core will allow you to pop in and out of any feature imaginable while going bigger and faster than all your friends — one of the reasons why the overwhelming demand for the Stairmaster grows every year.
This is an awesome board! It still is one of the few boards with regular camber! It has tons of pop, and breaks in perfectly! Great board for jumping and jibbing!