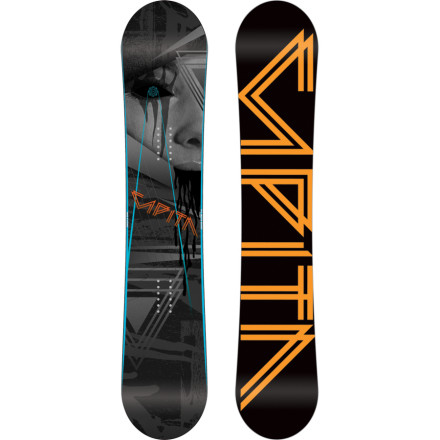 Share your thoughts
What do you think of the
Capita
Quiver Killer Snowboard
? Share a...
The Quiver Killers is by far one of my favorite boards. I am 5'10 170 lbs and have the 157cm. It is a directional stiffer boards (7 out of 10) and a tad wider. The best feature would be the camber. Traditional camber give you the best pop out of any camber story on the market. At $380 this board rides like a $500 board. I ride this slightly set back for everything.
Bought the 159, had it sitting in my room for at least a week before I could take it out. Switched from a 2007 Ride Crush 156. What a world of difference.

This board MURDERED IT. So sick. The edge holds like super glue, nothing like the old whip. Could trust it to take me left or right without hesitation. Point it forward and set it off, no chatter or noise, just silky-smooth responsive action. Sick pop to it, giving almost the perfect amount of kick when ollying little rollers.

It was so much fun. Had a coat of sub-zero wax thrown on for the conditions today too, absolutely sick. Was riding and in my head thinking "QUIVER KILLER" and totally relating to the concept behind the name. It kills anything, you can trust it to represent your steez and that's it. Roll out the mentality.
I'm 5'10'' 175 pounds. Size 11 boots, and...
I'm 5'10'' 175 pounds. Size 11 boots, and large bindings and just wondering if i should go with this capita board in a 155cm?
I'm very similair to your build but 10.5 boot. Just bought the 159 and it's literally perfect. Absolutely sick.
2 X TWS Good Wood as top 5 pipe boards.
Who needs more than 1 board...
Directional & loaded w/ camber &Pop,The Quiver Killer is just what it says! This is Capita's all terrain attack vehicle. You can climb the walls in the pipe or lay down some GS carves on your way to the chutes& backcountry. Given a bit of a stiffer flex, nothing holds an edge like The Quiver Killer,
This board is awesome!