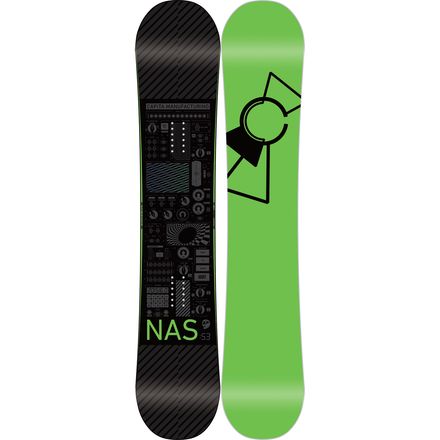 Colors

Detail Images
Description
Making 'em like they used to.
Don't waste money on boards with fancy-looking shapes and gimmicky-sounding materials when you can get the same level of performance from the Capita NAS Snowboard instead. The NAS stands for "Normal Ass Snowboard" because it has tried-and-true traditional camber and an all-wood core to create an aggressive, lively ride that can take on anything the mountain has to offer. This is the same board legendary style-master Kazu Kokubo uses to tear up the pipe, so you know it's legit.
Traditional camber provides a level of power and precision that no other profile can touch, and the stiff flex gives it drive and stability for going super-fast and extra-huge. Dual carbon rods running vertically down the board increase pop and rebound, and the new RFC Sustainable Dual wood core features sustainably-harvested poplar for a lightweight, snappy feel, with beech inserts running down the center prevent binding blowouts and increase durability.
New for this year, Kevlar-bound sidewalls improve impact-resistance and prevent sidewall blowouts. Special Blend EVO biax glass provides a smooth, consistent flex, and it's bonded with a polyurethane-based resin that's less harmful to factory workers than traditional resins. It has a true twin profile for unrestricted switch trickery, but don't let that keep you from taking this thing into the deep stuff, because it kills it there too. The sintered base is wax-infused to prevent it from drying out, and tough so it can take a beating and keep getting up for more.
Traditional camber
Stiff flex
Special Blend EVO Tech fiberglass
Sustainably-harvested poplar core
Dual carbon rods
Full ABS sidewalls
Wax-infused Rotation sintered base