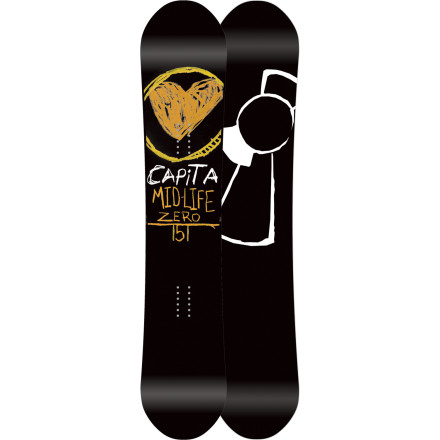 Detail Images

Community Images
Can a true-twin, flat-profile board allow you to use the whole effective edge for edging out Euro-carves on the mountain's high-elevation groomers or secret powder stashes in the morning and then wax your park prowess for the rest of the day? If you're talking about the Capita Mid Life Zero Snowboard, then the answer is 'yes.' Or maybe 'hell yeah.' Thanks to the carbon KEVLAR® stringers along the edges, the Mid Life Zero also has the pop to ollie the rope on the way to said powder stash. On top of that, this board has a mid-wide frame and deeper-than-normal sidecut, which make for solid landings off jumps without ever feeling cumbersome when on edge.

Zero camber subtracts flattens the board completely to give it a stable but broken-in feel on all terrain types while maintaining the ability to use the contact points to lay down some smooth carves
Two 20mm wide carbon KEVLAR® beams run the length of both inserts along the rails to deliver explosive pop and control at the feet while leaving the nose and tail soft for pressing and buttering
Form 6-K fiberglass laminate wraps the core with 612g/m2 biaxial fiberglass intersecting at 90-degree angles to offer a flex that turns easily and can hold down a press
SS Select core delivers all-terrain flex and response with a directional flex pattern and plenty of pop and an even flex carried out through vertically laminated, long-grain poplar
High Molecular Composition (HMC) extruded base exceeds the standards of other extruded bases with a formula that's fast, incredibly durable, and low-maintenance
Unanswered Question
How is this on jumps, like 40 and 50 footers...
How is this on jumps, like 40 and 50 footers cause i ride a ride kink and i seem to have more trouble with jumps than i have before with other boards?
I found it very hard to choose a board with so many options on the market. I strictly rode Rome for 10 years and wanted to try something new. I narrowed down my search and chose the mid life zero. I ride mostly park, and I am very happy with this board. I found it to be very stable and easy to hold an edge.Also, I have not had to worry about hanging up on any rail feature. I always rode a tradtional camber, I found flat camber is just as good if not better! Enjoy
Why It's Awesome: The Mid Life Zero series provides a true twin freestyle experience with an overall wider frame, slightly deeper sidecut, more pronounced shoulders, and distinctive tip and tail shapes. Benefitting from our zero camber approach, these boards are easy to press on rails and boxes. This feature also smoothes turn initiation at the contact points, yet retains stability by engaging the entire effective edge.
Is this board suitable for a complete...
Is this board suitable for a complete beginner?!
I would say most definitely. I started with a burton bullet which is supposed to be a beginner board. I would catch edges all over the place and it was hard to control. After switching to this board my skill shot up super quick and i was throwin 3's within a couple weeks. I went a size shorter than recommended too and it makes it a little easier to maneuver.
Awesome zero camber board!
This is an awesome all-around board! It has amazing pop even though its zero camber. This board has a medium-stiff flex, and is a great board for all over the mountain! It has tons of speed, and holds an edge very well! This is a great board for the park as well! You can't go wrong with this board!