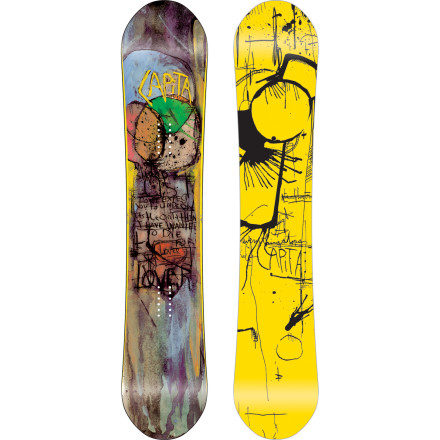 Receding hair and floppy beer-bellies? Hell no. The Capita Mid Life Snowboard's mid-wide, true-twin design is sure-fire means to grow your ego and elevate your position in the ranks of your crew. Extra pop and stability acts as your platform to ride hard and go big.
DS Select wood core utilizes lightweight, flexible poplar with strong beechwood rails for added stability
Dual carbon rods run along the binding inserts for strength and pop
E Class custom fiberglass weave retains torsional rigidity—stability for big landings and at high speeds
Wax-infused sintered base material keeps you sliding longer and faster with less effort
Awsome board with lots of pop.... I got it in a 151 but it rides just as good as my usual 154 setup. Definately recommended to all around riders =D
The Mid Life may be a mid wide but it rides & turns like a narrow board. Lot's of pop from the camber & a deep sidecut make this 1 of the funnest boards to play around on. True twin, The Mid Life is Great in the park or take it anywhere & make the whole mtn your park!!!