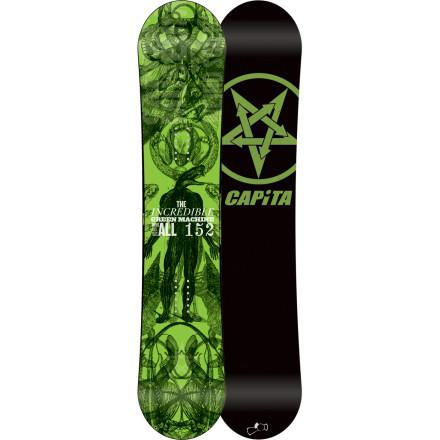 Detail Images
Fast. Green. Mean. The Capita Green Machine FK Snowboard re-thinks the construction process of a snowboard from the ground up by using old things that are ground up. Capita knows that just because you're running a green deck, doesn't mean that your board has to suck. The Freestyle FK makes the Green Machine FK park-friendly without asking you to forgo the occasional freeride fling.
Freestyle FK camber is level between the feet and has Wah-Pow! Flat Kick nose and tail
Sustainable wood core is reforestation-certified
100% Recycled sintered ABS sidewalls mean that old stuff that was just going to be thrown away now make for eco-friendly method grabs
Multi-layer silk-screened topsheet uses environmentally conscious inks
Special Blend Evo Tech triaxial fiberglass is torsionally responsive to attack the mountain without harming the planet—ya dig?
Basalt load bars are placed around the inserts for extra ollie power—made from lightweight and renewable volcanic rock
Mind your own beeswax; 95% Recycled beeswax modified sintered Speed base
Contains real devoured hippie blood
What do you think about this product?
Have questions about this product?
Green & Grateful, Highly Recommended
The Green Machine is a super fun all mountain jibstick w/ Eco friendly construction. The sintered beeswax base is super fast & never drys out. I love the shape of this board, combined with Freeride FK(flat to the outsides of your feet then rocks up) & a nice mid flex this board has an awesome feel making the whole mountain feel like your park!! If you love snow & want to keep it Green, I highly recommend this board!!
'11-12 CAPiTA Green Machine FK
TYPE: EARTH CONSCIOUS CONSTRUCTION FOR HIGH PERFORMANCE SNOWBOARDING

CAMBER TYPE: FREESTYLE FK

WHY YOU'LL LIKE IT:
These boards have a minimal impact on the production line, yet yield maximum impact on the mountain. By "maximum impact," we mean they shred like rabid bats screaming from the depths of hell.They float in powder conditions, press easily on boxes, and turn on a hard pack's dime. They're a marriage in engineering between a bad ass, true twin freestyle snowboard and a sincere commitment to responsible manufacturing. A Green "Machine" with progressive graph- ics and top tier performance made for an educated consumer looking for an environmentally conscious product.

IN DETAIL:
• Reforestation Certified Sustainable DUAL Core
• 95% Recycled Beeswax Modified Sintered Speed Base
• 100% Recycled Sintered ABS Sidewalls
• Special Blend -- EVO TECH Fiberglass Configuration
• 4 x 20mm Basalt Load Bars • 360 Degree Steel Edges
• 4 x 2 Inserts
• Aluminum Logo Base Inlay

Music provided by
Into song : "O Lay" by "TEENS" licensed by David Wood For The Snowboard Realms http://www.barnowlrecords.com

Clinic section : "True School" by "Marlin" licensed by Marlin Hansen For The Snowboard Realms http://www.myspace.com/Marlincalrizio

CAPiTA Defenders of Awesome Teaser : "Wires" by "Red Fang" for CAPITA Snowboarding http://www.redfang.net

Editing : T.J. Schneider / The Snowboard Realms http://www.tjschneider.com http://www.thesnowboardrealms.com