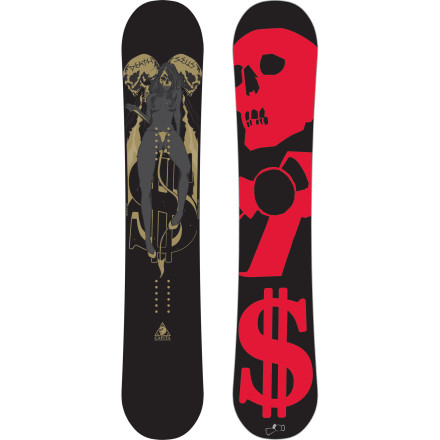 Community Images
i'm no expert or anything but i really love this board. better they the other one i had. CRAZY SPEED, kinda intimidates me on certain snow types. but still easy to handle, no need to ride the board, it f'in rides the hell out of you.
No speed limit. Handles everything. Very light weight. Good floatation in powder. Holds at high speeds on ice/hard pack. Great pop. Super easy to spin/rotate in the air. Good time in the park. No problem in steep glades. This is truly a niche board, not for everyone. If you like super stiff, responsive, light weight boards, this is the one. This is my second Black Death ....fill in the blank.. (it changes every year) in 5 years and I will probably get another one again. Unfortunately, the graphics seem to be a conversation peice in the gondola, but it is too bad more people do not appreciate art and the hidden themes remarking on modern society, money, politics, death, etc. Anyway, don't let the graphics steer you away from one of funest boards out there.
All Terrain Big Foot Mauler
Are you kidding me with this thing? This do all board will take you from dropping cliffs in the morning in 3 feet of pow to mobbing thru the dude tube in the afternoon. NO this is not a "freeride" deck, instead its a ALL TERRAIN KILLER. The Black gets a super light air core and new marine resin glass that is super snappy and wicked light that is tastefully combo'd with the incredibly evil Black Death shape. What's that mean? The ride ability is off the charts. Predictable, fun, and confident the new BDI is. You can't find a better riding shred stick at this price. Hell spend $700+ and you still cant step to the performance of the Black Death.