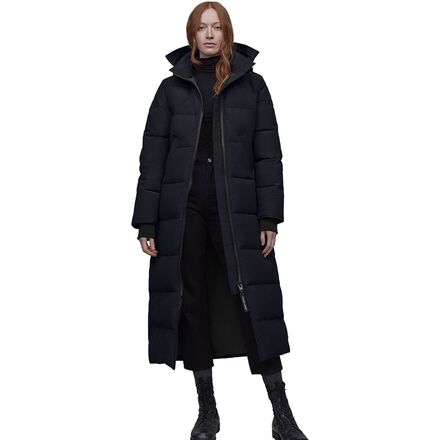 Detail Images

Videos
Description
Celebrity caliber warmth and style.
Standing on a movie set waiting for your turn in front of the camera can be hard. Filming a movie in arctic winter conditions can be downright cruel. So, when Rebecca Romijn found out she would be shooting in the snow wearing only body paint, she asked Canada Goose to create a coat that would keep her warm head-to-toe. The Mystique Down Parka held the heat in for miss Romijn, and it will do the same for you.
The 625-fill white duck down gives you an excellent warmth-to-weight ratio so you stay warm without carrying extra weight
Coyote fur lining around your hood blocks the wind and holds warmth around your face, and you can remove it for easy cleaning
Removable hood with Velcro-secured collar protects your head from the cold, and you can leave it behind when you want a more streamlined look
Calf length cut warms you all the way from head to leg
Recessed elasticized rib-knit cuffs seal out cold air so your arms stay warm
Share your thoughts
What do you think of the
Canada Goose
Mystique Down Parka - Women's
? Share a...
I usually ware size petite 0, what size should I order for this mystique coat, xxs or xs? Any chance to have military green this year? many thanks.
If you are a size 0 petite you would be best suited with the Mystique Down Parka in a size XXS. Feel free to contact me directly with any additional questions or if you are interested in setting up an order.

Kyle
Expert Gearhead
klivingston@backcountry.com
801-736-4337
Dry rot in 2 Mystiques
Gender:

Female

Fit:

True to size
I've had nothing but trouble with my Mystiques. Don't get me wrong: I give the warmth 5 stars. But the quality? 1 star, maybe 0.

My first Mystique started dry-rotting after 1 season: the seams were fading and sprouting microholes. Canada Goose replaced the coat. Right out of the box, the replacement coat's zipper got stuck. Canada Goose fixed the zipper. Not a few months later, the seams started--you guessed it--dry-rotting. Plus the cuffs were pilling. (Mind you, I don't abuse my coats!)

This time, however, Canada Goose chose to repair vs replace. Well, you really can't repair dry-rot, so the coat still looks like crap. Plus, they didn't even touch the pilled cuffs. (How hard would it have been to replace them?)

So let me get this straight: a very pricey coat looks like junk after a few months and a repair. My non-CG coats never, ever looked this bad--not even after a decade.

If it helps any, I'm 5' 5.5", with broad shoulders. Got the S to fit my shoulders, but the coat is wide from the hips down. If my shoulders were a normal width, I'd have gotten the XS.

And if I'd known how poor the quality is, I'd have gotten another brand!
I wear a size 10 and want to order a Mystique.I don't want it snug because I want to figure a sport coat under it for work.Should I order a Medium or a Large?

Hey Peggy,

I think you would be best suited with a Medium in the Mystique Down Parka. Feel free to contact me directly with any additional questions or if you are interested in setting up an order.

Kyle
Expert Gearhead
klivingston@backcountry.com
801-736-4337
I got the medium but prefer a large, so my advice is, if you like a little extra room in your coat, go up a size.
Will you get any Mystique XS in colors other then black or white/silver? Thanks!)
Hi there!
We do have the Graphite, Navy, and Redwood colors on order in the XS size. We do not have an exact arrival date on them, but I would recommend keeping your eyes peeled and they should hopefully be available within the next month or so!
Canada Goose Mystique Down Parka
I am 5'5", and 128lbs, what size do you think I should get?
I am about the same size and I would order a medium in this jacket.
Is it possible for me to get this coat without the coyote fur ruff? I know it might be extra work for you to remove it, but I don't plan on ever using it, and perhaps you could keep the fur in the event that you need to attach it to another coat going out in the future. I know this is a rather odd request, I was just curious if it was a possibility.

Kat
Per the description above you can remove it.
Will you be getting anymore S Redwoods in? If so when? Thank you!!
awe105967492,

We do have an order coming in. I do not have a date for you, sorry. Best thing to do would be to check the page everday.
I am looking for a black Mystique Parka in a size xs . Are you going to be getting some anytime soon? Is it possible to reserve one or to be noticed when they are available? thanks, Song
Hi there,
We do have a couple more orders expected to come in from Canada Goose for the Black/XS, but we are currently not expecting them until the summer months
Are you going to be getting the medium size in Redwood color anytime soon? Is there a way to be notified via email when it is in stock?
Hi Caren,
We do have a couple more shipments of the Redwood/M ordered to come into stock, but we are not expecting them to arrive until the summer months
Disappointed
Familiarity:

I returned this product before using it

Fit:

True to size
Lots of hype surrounding this brand--I opened the box and was seriously underwhelmed by this parka-Skimpy loft-Skimpy fur--LLBean has a far superior product for 1/3 the price!
hello, is it possible you can reserve a white mystique down parka in a size medium for me? I'm 5'6" 130 lbs. thanks, lauran
Hi Lauren,
Unfortunately as of right now we do not have any more of the White/M ordered to come in, sorry about that!
Gift for Wife
Familiarity:

I gave it as a gift but have feedback to share

Fit:

True to size
I bought this for my wife to replace a North Face parka she has had for years. She would not have paid this price for a coat, so I decided I would get it for her. She loves it. The length keeps her warm all the way to her boots. In the subzero weather of Chicago this year she said that she stayed very warm and if she felt cold at all it started at the bottom of the coat and worked its way up; however, her arms and core never got cold. She would tell me that she can tell other people are freezing cold and she is very comfortable.
It is a bit bulky for riding in the car and is not for mild weather. The coat is perfect for what I got it for her to use.
She also likes that the fur zips off as she can zip it off when she has meetings with clients.
I wasn't sure on the sizing she is a size 2-4 and I got an XS and a S. She kept the S. Her North Face was a M to give some sort of reference.
Mystique
Familiarity:

I've used it several times

Fit:

Runs large
I have a large Canada Goose Kensington coat so I thought I should order the large in the Mystique but the Mystique runs larger and it is a bit too big for me. I am 5'9" and weigh 140 lbs. Also, if you are in and out of the car, as I am, the Kensington is the way to go. The Mystique would be good if you walk a lot in a very cold environment.
Hello,
I just received the mystique coat today. However, when trying it on, it smelled badly. I couldn't quite make it what type of smell but it reminded me of being around someone who has not taken a shower for a few days. My question is: was this item a returned product? Possibly worn by someone who sweat a lot? While I like the product, is it possible to exchange it for the same color same size but with one that does not smell?

Thanks!
An update: I just smelled it again and noticed that the smell is from everything, inside and out. So I don't think it is due to someone wearing it.
I've had my coat for 3 weeks and wore it straight out the box. I didn't have any orders of any sort. But that would annoy me. Suggest calling the team here at BC. They've been great with follow up and insight to product. I know this coat is popular so exchanging for another would be hard. Good luck to you.
Best Answer
Thank you for sharing your experience! I have purchased a couple of CG items for my daughter and I don't think they smelled. I will follow up with the BC team then.
If You Are Ever Cold-Get This Coat!!
Familiarity:

I've used it several times

Fit:

True to size
I'm a 8 on the bottom and a 10 on top and a size medium nails it. Yes the black sleeves could be long. BUT they rouche well under the big sleeve without feeling bulky. The length is perfect. I've worn this in 4 degrees temp and a -10 windchill here in Chicago and I couldn't complain of the cold. Two things to note is that the neck is high. I'll only use it in extreme temps and a nose chin cover to keep my face warm. The other item is the zipper. You will hear a little 'click' when it's fully in. It's a firm package and not poorly made. So the zipper isn't going to just slip in like most coat zippers. The reverse zipper is great for sitting walking up/down a lot of stairs and driving in the car. It's very easy to go up and down. The inside packets are great. Even the Velcro pocket is secure. That Velcro won't be opening up on its own. This is some serious Velcro holing power going on. It's great for my phone and lip balm. The zipper is awesome for a small wallet and keys. The pockets may seem high. But once you wear the jacket you'll find them to be in a good location. Lastly, I don't feel like the Michelin man wearing this parka. It's cut perfect for such a coat. But this coat. Yes it's expensive. But I spent $250 on a coat last year and it doesn't hold a candle to this. Don't waste your money. You won't need to buy another winter coat. Unless you gain/lose weight. Then you won't have a problem selling the one that no longer fits. I waited 5 months to get this coat (numerous sites and emails to vendors). It's a win-win. BUY THIS COAT.
Hi! I just ordered the small in black, but I'm planning on returning it because it is too big. I was wondering if there was a chance I could snag a xs when returned or at the possibility that you guys would be getting some more in? Thanks
Tiffany
Hey Tiffany! So I looked up the inventory and we have more coming in... But that wont be for a few months. There is a chance that an XS will be returned unused and we will make it available at that time. If you want to discuss any exchange/return options, my email is skdavis@backcountry.com
Unanswered Question
HI. I am looking for the Mystique Parka in a Medium in Manhattan. Is there any chance you will be getting in soon online or can direct me to a store in Manhattan? thank you.
Unanswered Question
Hi, I am 6'2 inches tall and need a coat that will cover well below knee in an XL. Do you have that size and if yes which site can I buy it at (color does not matter)?
Worth It
Familiarity:

I've used it once or twice and have initial impressions

Fit:

True to size
I debated about this coat because of the price but it is truly worth every penny. I am 5' 4" and ordered a large because of my 43" hips -- this was the perfect size and not too long (the coat fell mid-calf on me). It was -12 today and I was in a cold barn watching a riding lesson -- no problem. Love everything about the coat.