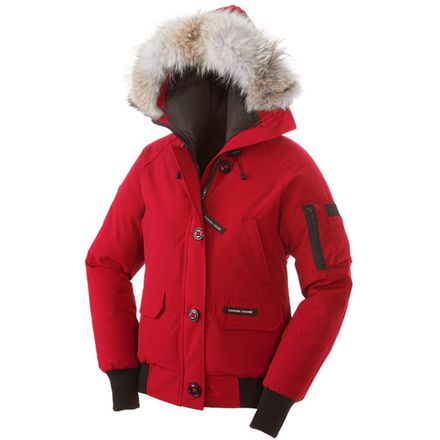 Detail Images

Videos

Community Images
Description
For when you demand the highest quality, warmth, and style.
Our neighbors to the north know a thing or two about keeping warm in the winter, proof being the Canada Goose Women's Chilliwack Arctic-Tech Bomber. This Canada Goose classic features a bomber style that's just the thing for a window-shopping expedition in a mountain resort village, while the Chilliwack's premium duck down insulation and luxurious, frost-proof coyote hood trim stand up to frigid winds on an exposed sleigh ride. A tough DWR finish on the soft, quiet shell fabric repels melting snowflakes, while a storm flap across the heavy-duty zipper and beefy rib-knit cuffs keep out drafts. When the temperatures drop, your fingers can find a cozy hideout inside the fleece-lined handwarmer pockets.
Best Winter Jacket Hands Down
Familiarity:

I've put it through the wringer

Fit:

True to size
I purchased this last year to battle some crazy New York winter / storms (I mostly work outside) and it saved me from freezing. It's my first time purchasing Canada Goose and even though it was highly recommended to me by my friends - it felt like a great investment to me despite it's priciness. I love that they have lifetime warranty so there goes me every buying a winter jacket in the future. I barely have to layer clothing when I wear this!
CG Chilliwack Bomber Down Parka
Form over Function
Gender:

Female

Familiarity:

I've used it several times

Fit:

Runs small
This looks cooler than some other winter coats but is also less practical. It is extremely warm and suitable for harsh conditions (windchills into the negatives etc), actually too felt too warm when it got into the upper thirties.



I know it is supposed to be a bomber style but I wished that it was longer, even so. The "hand pockets" are in a hilarious location (right over the chest). I can't imagine anyone walking around or even standing with their hands actually inside of these pockets (with a straight face anyhow).



The fur is luxurious but I found myself fretting over whether it would be damaged by the wear and tear of being thrown around during everyday life. I tried zipping the hood all the way up once, partly because I was clowning around, and the zipper got stuck there! I was eventually able to unzip it but I'm deducting a few more points for that because it's really an inconvenient situation to be stuck inside your coat with the hood all the way up. Especially considering the price point, every part of this jacket should be awesome quality.



Last note: according to the size chart provided, I should technically be a medium. There is no way that would have fit me, it would definitely have been too small! Recommend sizing up, especially if you want room for bulky winter layers underneath.
Light, great looking and warm jacket for chilly days. 5'7", around 120 lbs and small fits right. Tried xs and it was way too small overall.


Unanswered Question
I am 170 cm, 120 kg. So what size will suit me? I am confused, I want to have one that is perfect!
Great Product
Gender:

Female

Familiarity:

I've used it several times

Fit:

True to size
This is a great everyday jacket. Although I wish the fur trim on the hood is removable! I'm 5'1, 105 lbs. The XS fits me just nice with some room for another layer, although I don't think I'll ever need it even for Michigan weather. I also have the Canada Goose Mystique Parka XS size for outdoor use during winter, like the removability and the wire enhancement on the fur trim of the hood! Too bad this jacket doesn't offer such options.
I'm 6' tall (182cm) and about 130lbs (58kg).. Any recommendations on sizing? I almost always have trouble with length as you can imagine.

I'm intending on wearing this jacket all winter for everyday & snowboarding but I'm not sure if sizing up too much or getting a men's size would make me look too boxy.

Help!
Since you are tall and usually have trouble with length you might want to just opt for one of their other styles. (I am not particularly tall at 5'8" but have a long torso, I found the length of the coat and the sleeves to be a little shorter than I'd like.)
Great women's jacket. Stylish!
This is a great down jacket!!! I am 5'4 and 125 pounds, and XS fits so good! The custom service is amazing!! I ordered this jacket on thursday morning but because I offered a wrong billing address, they shipped this item late in the night after I made a call to custom service. Surprisingly, I got this jacket on friday afternoon because they chose to use next day air service!!!! Thank you guys, and I will recommend this website to my friends.
Canada Goose Chilliwack Bomber - Women's
I wonder how heavy it is. I have a Canada...
I wonder how heavy it is. I have a Canada Goose Expedition Down Parka and it is heavy to carry it around in door. If this Chilliwack is lighter, I want to get it!
I believe that this jacket clocks in just under 3 lbs depending on size.
Canada Goose Chilliwack Bomber - Women's
I have the Canada Goose Women's Chilliwack Bomber. I finally decided to invest in a warm winter coat here in the U.S. midwest. I usually stay away from down winter coats because they impede my motion, including driving and just generally moving around. This Bomber is super warm. I love the coyote fur hood. It's so cavernous and toasty. It stays on, it's adjustable, and it keeps the wind out. The sleeves keep snow out and away from your bare arms when you're clearing it from your car. For me, the sleeves are a great length. I'm 5'5", medium athletic frame, and I ordered a medium. It's a little short, so when I get out of the car, I'm often pulling it down, but it's not that big of a deal because I like the mobility it affords me. The number of pockets is spectacular! And it's super light. I wouldn't hesitate to wear this with just a t-shirt on underneath for short trips outside.
I bought the jacket for my wife. Inially, she did not like the it - believing it to be: too boxy; too unsustainable with its use of real fur; and too fattening (she believed that it makes he look fat). However, it happened to be a very cold day when I presented the jacket to her as a birthday present. So she agreed to try it on outside in the cold (very reluctantly) and has worn every day since then because it keeps her warm and is really practical for everyday use with its many useful pockets. Since then several people have commented favourably on the style, quality and colour of the jacket. I believe that my wife is 'still in denial' when it comes to this item. While she now claims that the jacket is OK. Meanwhile, I really believe that she looks great in it and seems a lot warmer compared with her other dodgy coats and now that she understands that the fur is allegedly from a sustainable source she seems much more relaxed about the fur trim. (Mind you, she seems pretty pleased with the fur trim the other day when it was bitterly cold and very windy). She wanted to give this jacket three star - presumably to save face but I've given it four stars because it looks the business and makes her look the business too.
I am 5'6", 130 lbs and an athletic build, I bought the Medium and it fit perfectly. I wore it around Colorado this winter with only gloves and a shirt underneath, and I was extremely warm. All around the best jacket I have bought probably ever, I have found my loyalty line!
Unanswered Question
My friend got this jacket (from a different...
My friend got this jacket (from a different retailer) and the sleeves were very thin compared to my Expedition parka. Also the one she got was tight across the back shoulers. (SHe's a size 4, but got a size medium in women's to accommodate some layering.) Is this jacket supposed to have less down stuffing in the sleeves compared to the Expedition parka (around half the thickness) and does it run very small through the back shoulders or did my friend get a counterfeit? I'm interested in getting another Canada Goose jacket, one that's a bit shorter than the Expedition parka, but don't know if I should order this style or select another style. IF this is the way it's supposed to be, can you reccommend antoher style that would be shorter than the Expedition parka, but still REALLY warm? Thanks in advance for your insight and advice.
Hi all, I would like to know what is the...
Hi all, I would like to know what is the difference between women and men model ?

Thank you in advance

E.Pons
The sizing and the cut of the jacket the Chilliwack Bomber Jacket are the only differences my boyfriend and I noticed.
I have heard that there are alot of...
I have heard that there are alot of counterfit Canada Goose Down Jackets out there that are made with sub standard products. how do i know that this is legit and not a fake???
Best Answer
Mike, check this link:
http://www.canada-goose.com/counterfeiting/