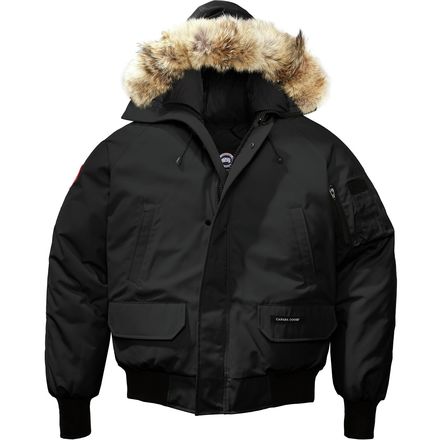 Colors

Detail Images

Videos

Community Images
Description
Cold weather is whack.
Beat back the worst cold that winter can dish out with the Canada Goose Men's Chilliwack Parka. This expedition parka features high-loft duck down to keep you warmly cut off from the harsh outside world. A strip of coyote fur adds warmth and wind protection, and four front pockets hold your daily essentials and extra gloves. Elastic cuffs and waistband and a drawcord hem help seal out intrusive cold air.
hi...em my chest measurement is 100cm and waist for 95cm,which size is best suitable for me? thx!
Hey joneywoo,



I would recommend you go with a Large in the Chilliwack Bomber Down Parka based on your measurements. Feel free to contact me directly with any more questions about Canada Goose Parkas or if you are interested in setting up an order.



Kyle - Expert Gearhead
I'm a 5 7 male around 120 pounds. Would an xs be recommended or small?
Blacknova,



Do you have your chest and waist measurements? Those will be the best measurements for determining fit based on the sizing chart.



Once you have those, go ahead and email me and I'll help you size things out.



Shoot me an email anytime you have questions!



Jared D.

Expert Gearhead

801.736.4336

jdowns@backcountry.com
I'm 5'2" 107 lbs. Not sure between 33" or 32" for bust. Could anyone recommend which size I should get?
hi...em my chest measurement is 100cm and waist for 95cm,which size is best suitable for me? thx!
Hey lily,



I would recommend you go with a XS in the Chilliwack Bomber Down Parka based on your measurements. Feel free to contact me directly with any more questions about Canada Goose Parkas or if you are interested in setting up an order.



Kyle L. - Expert Gearhead
CG Chilliwack Bomber Down Parka
Optimal
Familiarity:

I've used it once or twice and have initial impressions

Fit:

True to size
I've longed for a jacket to endure extreme conditions. Canada Goose seemed to be a well known brand for outerwear being durable to harsh winters. I contemplated whether I should get a L or XL, because I never knew anyone of my size that owned a Goose. I didn't know whether it ran large or small because everyone's body is different. Being that I am 6 ft, 205 lbs with an average build, I decided to go up a size and get the XL just in case I wanted to add more layers. When I tried it on, the sleeves were much longer than my own arms. Additionally, the coat felt a little bulky despite it being bigger than my torso. The bigger it was on me, the more weight it was to drag. The Goose however is still exceptionally warm. The fur really complements the coat and is too very warm on your neck. The XL is still indeed too large for me, and so I've decided to stick true to my size and exchange it for a L.
Best jacket I own
Familiarity:

I've used it several times

Fit:

True to size
I love this jacket, it is the warmest piece of clothing i've ever owned. I tested it out in -6 C weather last night, which is nowhere near the extremes it's designed for, and I was roasting inside. Could not feel the cold at all.

It's true to size, however is very short from what I am used to (it is a bomber after all), but it would be nice if it was an inch or so longer. If you bend down or reach up for something, the jacket kind of moves up your back... Other than that, it fits snug and the arm length is perfect. I'm 5'11 (180cm) and about 157lbs (71kg) I usually wear medium, and the medium size for this jacket fits me perfectly. If you're worried about size or plan to stack on the pounds, perhaps go one size up for the Chilliwack.

The build a little bulky, but not any different to the other down jackets I have worn before (Helly Hansen, Kathmandu). The faux fur trim is nice, but if there is one thing I don't like about the jacket, it's that the fur kind of sits up behind your head when the hood is down, I haven't figured out a way to kind of "push" the hood down so it isn't as noticeable. The fur is very nice and actually useful when windy - its really obvious it is real fur by the way it looks and moves in the wind - so if you are worried about that, then maybe reconsider if you don't want people looking at it.

I get lots of looks here in Australia when wearing it, as they don't sell Canada Goose over here - I've only ever seen one other person wearing one, which is great, because you stand out from the crowd and it's been a conversation starter more than a few times. Although one person at my work asked when I was going outside to put more money in the meter for my sled dogs. I said I parked them in the basement, so it was all good.

Overall though, this jacket is very warm, it actually gets a little hot with anything more than a t-shirt underneath, although this may be different in -10 or -20 degree weather. But around -6 to 0 C, you definitely only need a t-shirt. The pockets are small, but useful, and the hand warmers are good, although they sit very high up near the ribs, which is awkward when you are walking.

It is an easy jacket to own in a city - unlike parka's, you can drive with it fairly easily with the hood down, sit outside at a cafe, and generally walk around with it in your arms if it gets too hot without feeling like you're lugging around a bag of clothes.

I got the graphite colour, which is pretty neutral as it goes with everything, but I've just seen the new cammo colour in the 2015 range which would be awesome, but backcountry.com don't have it online yet. Otherwise, I would have got the military green or the tan coloured one.

Backcountry.com - awesome sales person on the live chat - his name is Josh R, he helped me make the order online. So helpful and different to the customer service we get here in Australia - I hope he got some of the commission from this $600 jacket! Shipping - amazing, considering I used a shipping forwarding company. Ordered on Saturday, received at shipping company on Wednesday morning (within BCs two day free shipping timeframe) and then got it the following Friday morning at my house in Australia. That's from one side of the US to the other, then across the Pacific to Australia. Top notch.
Unanswered Question
I'm 5'8" with a 43" Chest and a 36" waist. What Size should I buy?
Do you carry the jacket which is Canada Goose Chilliwack Bomber Down Parka - Men's for X-small size ?
Hi there,

Unfortunately we do not carry this model in the XS size, sorry about that!
crazy good cold weather jacket
Familiarity:

I've used it several times

Fit:

True to size
These things are hella expensive but they are the real deal... So worth it if you live somewhere, like I do, where winter temps in the -20s or -30s aren't uncommon.



Material seems very sturdy, like it will hold up to a lot of use.



The hood is a true snorkel hood, the kind used on authentic military parkas. Snorkel hoods are hard to find these days, but an essential feature of a true cold weather jacket. This allows you to create a narrow tube of warm air, warmed by your breath and insulated by the fur ruff, around your face, rather than having your face directly exposed to the elements. I spent a long time searching for an "affordable" parka with this feature and had trouble finding one. I've bought and returned a lot of disappointing parkas with hoods that simply offer no protection for the face.



The real fur ruff is great but I do wish it zipped out. That would make it easier to launder the rest of the jacket.



The zipper is heavy duty, but I've not had problems with it like some reviewers.



The fit is regular/true to size. I am 5'9" and 150 lbs, typically swear a small or a 36R or 38R jacket. I ordered my regular size small but some of the reviews had me concerned that I should have sized up to medium. When I received the jacket, however, the size small was basically perfect, slightly generously cut but not too baggy. Body and sleeve length is fine. If I were going for a really slim fit, I would maybe size down, but on a piece of outerwear like this I prefer a slightly roomier fit.



All in all I'm happy with the jacket and look forward to using it, even if I'm not especially looking forward to the conditions that will make me use it.
here's the deal about sizing
Familiarity:

I've put it through the wringer

Fit:

Runs large
after plenty of tries and research and owning 5 goose jackets ive come up with a sizing chart that could help..i'm 5'11 170 i wear medium in clothing

for a good fit

the loose fitting like exped-resolute should downsize 2 sizes (xs for me)

for the regular fit like chilliwack downsize 1 ( small for me)

for the slim fit like banff-langford-chateau true to size (medium for me)

if you want to multi layer or like a loose fit then just upgrade 1 size

ex small for exped-resolute

medium for chilli and large for banff-langford-chateau

hope this will help!
Unanswered Question
hi, can someone please suggest what size of Bomber chillwack I can buy for my husband as he is not in the country?



He is 5.8 1/2 feet and around 75-80 kgs

shoulder /shirt sizes - L , I suppose which is 42 inches

Thanks in advance!
Warm, warm, warm
Familiarity:

I've used it several times

Fit:

True to size
As most everyone else has mentioned, this jacket is bonkers warm. Sitting inside, it really IS almost too hot to keep on. I've only used the jacket in 20-32 degree F weather but I can say it was toasty standing stationary for about 20-25 minutes and never felt any "cold" spots that were covered by this jacket. The fleece-lined pockets are great; even my un-gloved hands stayed reasonably warm.



With regard to size, I have a pretty small frame. 5'9" at 150 lbs, small shoulders, 36" chest and 30" waist and a SM fit perfectly. I still have room for a sweatshirt or sweater without feeling constricted. The sleeves definitely run a bit short but in my case, most of the other SM-sized jackets I own (RAB and North Face), the sleeves tend to be just barely too long, so the shorter sleeves work for me. Length of the jacket is what one would expect from a bomber style cut. For reference, I wear my every-day denim at my hips, not my true waist: Arms at rest, the bottom falls to cover the belt loops. Arms in motion or raised, the bottom meets at the top of the pants. The hood is huge but functional and keeps the head just as warm as the body, it seems.



The one complaint I have thus far is the zipper, as also mentioned by a few people below. It's a nightmare to operate and the only reason for -1 star because of how absolutely frustrating it is. Aside from that one SNAFU, the jacket is warm and stylish and couldn't really ask for anything more from a jacket.



UPDATE 1/21/15: Just for reference, wind chills fell to below -20F tonight. Just walked in wearing this bomber with only a long sleeve t-shirt underneath and felt fine. Crazy enough that I had to edit this review to say so. I guess this officially makes me a Canada Goose fanboy.
Amazing Product - High Quality!
Familiarity:

I've used it several times

Fit:

True to size
I just wanted to send you a message thanking you for creating such an incredible product. I am a professional photographer and shoot outdoors a lot. Recently I purchased a Men's Canada Goose Chilliwack Bomber Down Parka from a Moosejaw outlet store. Recently, I was subjected to - 32 degree windchill and the warmth and protection I experienced from the jacket is amazing. Merci beaucoup!
I'm 5'8" with a 44" Chest and a 43" waist. What Size should I buy?
You are going to want to go with the XL, it accommodates chest sizes 44-47".



Matthew Pizza

801.736.5363

mpizza@backcountry.com
Hi I'm 5'9" and 150 lbs. Should I get an M or S? I prefer something fitted.
Brian,



For determining your size, a chest measurement would be more helpful. If you refer to the sizing chart, a Small has a chest measurement of 36-37 in, while the Medium can accomodate a 38-40 in chest.
I am 5'9" and 145 lbs. A medium is perfect.
Hi! Thinking of getting my brother this....
Hi!



Thinking of getting my brother this. What is the length of this jacket? The name says Parka, which I assume should be knee length but the photograph shows a jacket that is upto the waist/ hips?



Thanks
Hey Radhika,



This jacket is hip length at 27.25 inches.
I'm 5'08 245lbs what size should I get?
I'm 5'08 245lbs what size should I get?
My initial reaction is to suggest the XXL, which should fit you well in the Canada Goose Chilliwack Bomber Down Parka. However, not knowing your build more specifically, I would suggest comparing your chest, waist, and sleeve length measurements to the sizing chart listed above.
Amazing
Familiarity:

I've used it several times

Fit:

True to size
I'm From NY & this was the best 594 dollars I could ever spent. VERY warm & stylish. Can not beat that. Just wish that had more variety of color cause I really wanted the Forrest green.
Alright jacket, i'd go with the more expensive version to stay warmer
Canada Goose Chilliwack Bomber Down Park