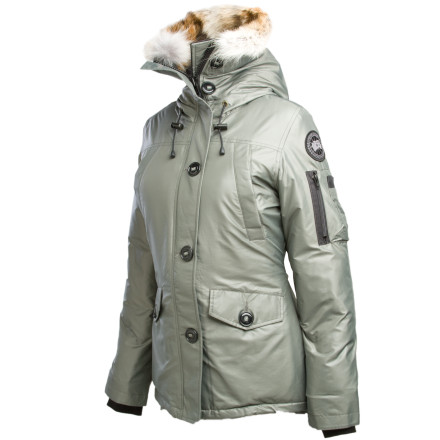 Detail Images
From Montreal to Mont Blanc, and from Sun Valley to Sundance, few jackets will keep you warmer with as much style as the Canada Goose Women's CG55 Montbello Down Parka. This luxurious winter winner features an eye-catching high-sheen shell that's stuffed with 625-fill down for exceptional warmth. Genuine fur trim on the storm hood finishes off this modern update on a Canada Goose classic.
Mid-thigh length provides extra protection from biting winter winds
Removable insulated hood features removable coyote fur ruff
Storm flap over center zipper secures with military-style buttons
High handwarmer pockets are fleece-lined for extra coziness
Waist drawcord snugs the jacket closer for greater warmth
Recessed rib-knit cuffs keep out the cold
What do you think about this product?
Have questions about this product?
I ordered this parka because I live in Chicago and the winters can be brutally cold and windy. I've owned numerous North Face and Patagonia jackets/coats/parkas but was hoping to step it up a notch in terms of style and especially warmth. Canada Goose parkas cost about double the amount of a similar patagonia or north face styles but I don't mind paying extra as long as I feel as if I'm getting a much superior product. Given that CG makes parkas for arctic expeditions, it seemed like a good start. I ordered the limited edition grey because I was also hoping that the exterior fabric would be lighter/more flexible than the standard (winter coats can be so heavy!). I've never seen the "standard" version in person so I can't say for sure but the exterior fabric isn't as soft/light as I had hoped. On the upside, the grey is somewhat darker than pictured and, while it has a sheen, it is not "super slick" shiny. The overall fit is fairly trim but hey, this is a down parka so it is never going to win the "slimming" award so I would say it is "OK" looking and perhaps even kind of cute but not amazing. I'm a small-busted, small-hipped size 6 and the small "just" fit me (no room for heavy layers) so I'd suggest sizing up one size if you are curvy or want room for some medium to thick layers. The chest warmer pockets are a bit awkward as you basically have your hands right on your "chest." The hip pockets should have slits on the side so you can comfortably slide your hands in there rather than from the top flap hip pockets which is awkward/uncomfortable. This has the most major hood I've ever come across. When fully zipped up the hood forms a 6 in tunnel that protrudes in front of your face. I can imagine that the hood is extremely warm and protective when outside on a bitter, windy day. The downside to the hood is also that it protrudes so dramatically - it is awkward to zip the jacket just up to chin level because the zipper starts curving right at the neck to under the chin. And, most importantly, the first thing I thought when I pulled the jacket out of the package is: "this feels incredibly flimsy and I can't believe it will be very warm). Because it isn't winter yet, I can't really test it out but I've got to say, I'm very unimpressed with the perception of how warm this will be. Apparently there is body mapping and I don't know if they use higher quality down or what but I'm not sure this is going to do the trick and for the price I expect it to be AMAZING. The inner straps to carry the jacket on your back when not wearing it indoors is a genius idea. I'm going to think about it but for the price I doubt this is a keeper.