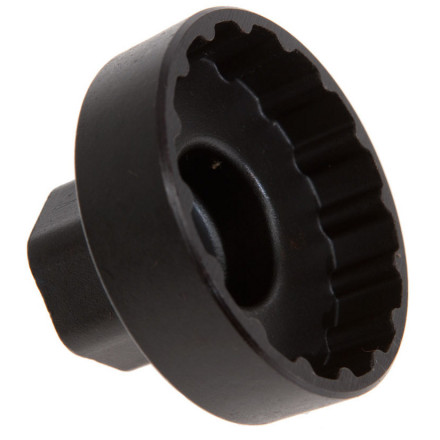 The Campagnolo Ultra Torque UT-BB130 tool is specific to your Ultra-Torque bottom bracket cups. You'll need to attach this to your torque wrench in order to do your work. Interestingly, this is not the tool Campy recommends as your first choice for installing your bottom bracket. Rather, if you read your BB manual (which, ironically, comes with your crankset and not your BB), you'll see that the preferred method is for you to slowly hand-tighten your cups and, while doing so, coat the threads with Loctite. This is no ordinary Loctite. First off it costs $15/oz. Secondly, it's anaerobic so it only activates once you've fully hand-tightened the cups and thereby removed them from the presence of oxygen. Once you've done the hand-tightening, you move forward with the installation of the BB clip and then install the cranks.
This being said, Campagnolo acknowledges in their manual that not everyone will follow the Loctite route. In this case, attach the UT-BB130 bottom bracket tool to your torque wrench and cinch down the cups to 35Nm. In addition, this is tool you'll use if/when you'd like to remove your cups.
Share your thoughts
What do you think of the
Campagnolo
Ultra Torque UT-BB130 Tool
? Share a...