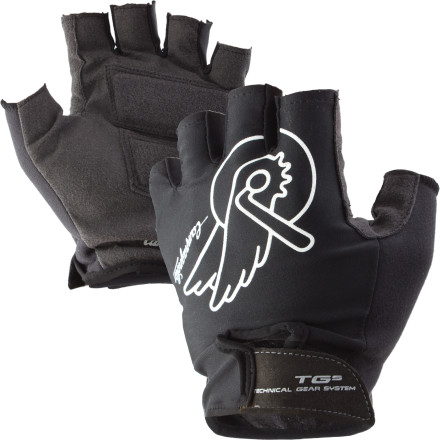 Detail Images
The iconic image of the Campagnolo Wings symbolize the spirit of freedom that cycling brings. Not only that, but they look really cool. The Wings have appeared everywhere from tattoos to belt buckles, and now you can have them on your cycling gloves. The Campagnolo Sportswear Wings Gloves bring the history of Campagnolo to the present, and look good doing it.
The Campagnolo Sportswear Wings Gloves feature a full Lycra back with a Perforated Lycra insert for moisture transfer. The palm has a non-slip treated Chamude surface, and gel padding to reduce vibration. Campagnolo added a sweat-absorbent insert on the back of the thumb for those necessary brow wipes
The Campagnolo Sportswear Boost Gloves are available in sizes Small through XXX-Large, and in colors Argal, Lake, Titanium, and Yellow.
Mesh and spandex top promotes airflow through the glove
Spandex inserts between finger for maximum range of motion
Durable microfiber palm with rubber print for added grip
Anti-vibration gel dampens vibration to eliminate pain and numbness
Velcro wrist closure for custom fit
Share your thoughts
What do you think of the
Campagnolo Sportswear
Wings Glove
? Share a...
SiteId: 1
SiteCode: bcs
Transient: true
Sec Status: 0
Catalog: catalog:bcs
PriceList: priceList:listPrices
SalePriceList: priceList:salePrices
isDev: No
is Mobile (touch): No
protocol: http
port: 80
storeServerUrl: http:///Store/catalog/productLanding.jsp
secureStoreServerUrl: http://www.backcountry.com
request locale:en_US_1
profile locale:
Template parameters
navigation: /navigation/categoriesNav.jsp
header: /includes/header.jsp
navigationFlyouts: /navigation/categoriesNavFlyout.jsp
siteName: Backcountry.com
defaultBody: /catalog/product.body.jsp
pageStart: /includes/pageStart.jsp
footer: /includes/bcs/footer.jsp
logoUrl: /images/bcs/bc-logo.png
displayName: /includes/displayName.jsp
pageEnd: /includes/pageEnd.jsp
productDisplayBox: /catalog/include/productDisplayBox.jsp
Template inheritance tree
/backcountry/layout/templates/bcs/ProductPage
/backcountry/layout/templates/bcs/StandardPage
/backcountry/layout/templates/StandardPage