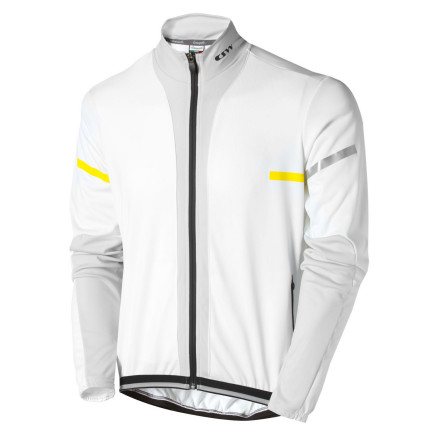 Most would say that they prefer to ride in the rain than in the wind; we agree. The wind is a devil, and you need every advantage you can get against it. That's why Campagnolo Sportswear created the Spacehab Windproof Jacket. The Spacehab is entirely windproof, and is made of proprietary materials that keep you dry, cool, and comfortable while you're battling headwinds.
The Campagnolo Sportswear Spacehab Windproof Jacket is constructed from the proprietary Light Textran fabric. Light Textran was developed by Campagnolo Sportswear for optimum performance in windy and rainy conditions. This fabric has a maximum elasticity of 300% for articulating comfort, and slows heat dispersion to retain a consistent body temperature. The Spacehab jacket is completely windproof, backed up by three layers of Textran and breathable spread-coating on the liner. Campagnolo is also acting as the eyes in the back of your head, by adding IQ Seen reflex logos on the rear hem for night-riding. These reflective strips are visible from over 500 feet away. An extra perk that you don't see in many wind jackets is that the Spacehab has a waterproof exterior, making it a lightweight jack(et)-of-all-trades.
The Campagnolo Sportswear Spacehab Windproof Jacket is available in sizes Small through XXX-Large, and in colors Black, Orange, White, and Yellow.