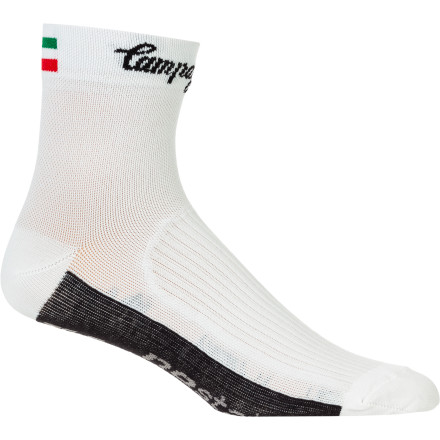 Detail Images
If your friends clear the table when you kick up your dogs for post-ride espressos, you probably suffer from chronic stinky feet. Perhaps you need to look into the Campagnolo Sportswear Silver Socks. The Silver Socks are constructed from advanced wicking and antibacterial materials that will provide exceptional comfort for you and for everyone within nose-shot of your feet.
The Campagnolo Sportswear Silver Socks are made from a complex integration of the patented CoolMax Active Performance and Nostatex fabrics. The general body of the socks is made from CoolMax, a fiber-based moisture management fabric that pulls sweat from the skin and through the fabric for quick evaporation. The sole features Nostatex, an antistatic and antibacterial fabric that is renowned for its heat regulating and odor-fighting capabilities. This means that you can expect dry, spring-fresh feet after hours in the saddle.
The Campagnolo Sportswear Silver Socks are available in sizes Small through XXX-Large, and in colors Black and White.