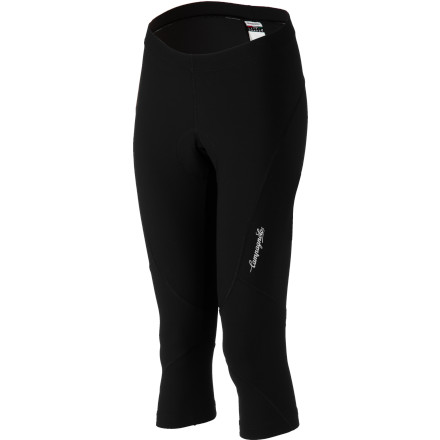 Detail Images
As any pro will tell you, the keys to sustaining a long day in the saddle is proper hydration and a great chamois. The Campagnolo Sportswear Penny 3/4 Tights will give you the latter, but you have to fend for yourself when it comes to water. Through careful materials selection, Campagnolo enhanced the Penny's comfort while delivering superior performance capabilities.
The Campagnolo Sportswear Penny 3/4 Tights are as uniquely style-driven as they are performance-driven. The Penny tights feature the patented Anatomical Tri-Pro Pad for maximum comfort in the saddle, while the Penny's fabric is made from the UPF 50+ Revolutional Energy techno fabric. This fabric been developed to provide optimal movement efficiency, muscle containment, compression, and muscle support. Campagnolo developed the Penny 3/4 tights with female physiology in mind, and the end result is a cleverly cut form that's adaptable to multiple riding positions. Nice extra features include the IQ Seen reflex logo for night time visibility up to 500 feet, and elastic/silicone leg hems to keep the tights in place when you're hammering on the pedals.
Campy made a form-fitting and beautiful pair of 3/4 tights that strike the balance of Italian performance and feminine design when it created the Campagnolo Sportswear Penny 3/4 Tights. They are available in sizes X-Small through X-Large, and in colors Black, Lake, Red, and White.
Extra-elastic Revolutional Energy fabric offers maximum support and muscle containment, reducing fatigue
Ergonomic Tri-Pro Pad is specifically designed to fit a woman's anatomy
UPF 50+ treatment prevents sunburn during long rides
Waist cut lower in front for comfort when you're in the cycling position
Silicone grippers in the elastic hems keep the knickers in place
IQ Seen reflective logo is visible at 500 feet, giving motorists plenty of warning that you're on the road
Not that small
Familiarity:

I returned this product before using it
I first bought a medium in these, but they were too big. Then, I grabbed the small that came in and felt sure that it must fit. It is too big, too. It's mainly the loose low-riding waist. I can lean forward like on a bike seat without it falling, but can't lean over to pick something up without the waist sliding down. I thought they were supposed to be compressive but they definitely are not. I'm 5'4" 120 lbs.
RE: Campagnolo Sportswear Penny Cycling...
RE: Campagnolo Sportswear Penny Cycling Knicker - Women's.

I am 5'10" 145, 37-30-37. What size would work best for me?

Thanks.
Well, the chart shows a 'L' to go up to 30.5"waist, it would be very close; plus, most Italian clothes, including the bike clothes, tend to run smaller, smaller than their size charts show. Maybe a 'XL' (which is what I wear in the Italian lines) will give you more breathing room, and a pinch more room for those monthly 'fluctuations'!

Hope this Still Helps.
thanks, Debbie. I opted for a bib tights and knickers from giordana forma red (carbon) line instead. size medium fits well. glenda


I am a thin short gal so I knew the length was going to be not quite right, but seriously, the elastic is almost cutting off circulation to my calves. Everything else, however, is fantastic. I'm going to keep these, but maybe one should consider the price to performance ratio before buying these.
Everyone will take notice of you in these knickers. They are simply gorgeous.
The fit is so fantastic it will take your breath away for a moment. They feel wonderful.
The muscle support does just what it says. I feel energized when out on my bike.
And if you have to run a quick errand before changing, you will receive some very appreciative looks.
Don't miss out on them!
These would get 5 stars if they were thermal, other than that these are perfection. Love the Lake blue ones- thank you RealCyclist for giving me such a sweet deal on the price too.
Wear these on rides that begin with temps in the 40's and ending in the 70s+. Fabric is light weight and seems to repel wind. Definitley get the benefits of mucsle compression and the TriPro chamois keeps me comfortable for hours in the saddle.