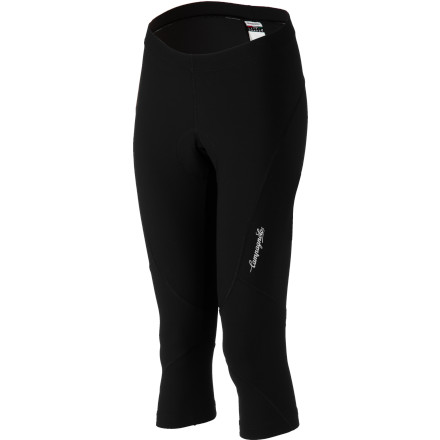 Detail Images
As any pro will tell you, the keys to sustaining a long day in the saddle is proper hydration and a great chamois. The Campagnolo Sportswear Penny 3/4 Tights will give you the latter, but you have to fend for yourself when it comes to water. Through careful materials selection, Campagnolo enhanced the Penny's comfort while delivering superior performance capabilities.
The Campagnolo Sportswear Penny 3/4 Tights are as uniquely style-driven as they are performance-driven. The Penny tights feature the patented Anatomical Tri-Pro Pad for maximum comfort in the saddle, while the Penny's fabric is made from the UPF 50+ Revolutional Energy techno fabric. This fabric been developed to provide optimal movement efficiency, muscle containment, compression, and muscle support. Campagnolo developed the Penny 3/4 tights with female physiology in mind, and the end result is a cleverly cut form that's adaptable to multiple riding positions. Nice extra features include the IQ Seen reflex logo for night time visibility up to 500 feet, and elastic/silicone leg hems to keep the tights in place when you're hammering on the pedals.
Campy made a form-fitting and beautiful pair of 3/4 tights that strike the balance of Italian performance and feminine design when it created the Campagnolo Sportswear Penny 3/4 Tights. They are available in sizes X-Small through X-Large, and in colors Black, Lake, Red, and White.
Extra-elastic Revolutional Energy fabric offers maximum support and muscle containment, reducing fatigue
Ergonomic Tri-Pro Pad is specifically designed to fit a woman's anatomy
UPF 50+ treatment prevents sunburn during long rides
Waist cut lower in front for comfort when you're in the cycling position
Silicone grippers in the elastic hems keep the knickers in place
IQ Seen reflective logo is visible at 500 feet, giving motorists plenty of warning that you're on the road