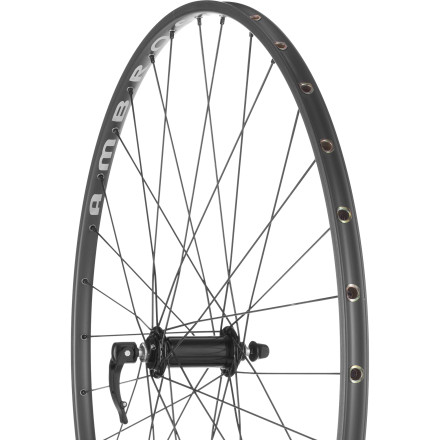 Detail Images
Ever wonder happens when you throw a couple of hundred years of combined Italian wheel experience together? It's just as marvelous as you envisioned, actually. Embodying this sentiment, the Campagnolo Record/Ambrosio Nemesis Tubular Wheelset combines the heritage and precision of Campagnolo and Ambrosio. Together, you'll feel the lightweight, smooth rolling power that's propelled the titans of cycling into history books.
Campagnolo aficionados might not recognize the subtly redesigned Record hubs, but rest assured that those changes have essentially been kept to the surface. The new hub body is slightly more angular than its predecessors, and a key alloy change in the freehub body has led to a significant weight reduction as well. But, as far as the internals are concerned, the Record hubs still come equipped with Campagnolo's standard ball bearings -- widely appreciated for their long life of smooth, worry-free spinning. Keep in mind that if it's an even smoother spin that you crave, Campy's ceramic USB (Ultra Smooth Bearings) bearing system is available separately as an upgrade. Per its intelligent Italian design, all of Campagnolo's hubs grant easy access to the internals for regular, headache-free service and maintenance. Additionally, it's worth mentioning that they require no special wrenches for servicing either -- just another part of what makes them so popular for top-level mechanics.
So, for the rims, the Record hubs have been laced with 32 stainless steel spokes to the sturdy, 13mm box-profile of the Ambrosio Nemesis. Each rim has double Inox eyelets to reinforce each spoke joint. However, it wouldn't be an Ambrosio without a stealthy hard anodized finish. This treatment resists both brake track and aesthetic wear. And at only 430 grams per hoop, you can expect a lifetime of fast-rolling reliability for cyclocross, year-round training, or for simply drilling it across gravel parcours that punctuate your bully ride. This rim measures 21mm across, making it perfect for fitment with your favorite 23 or even 28mm tubular tire.
The Campagnolo Record/Ambrosio Nemesis Tubular Wheelset is available in the color Black and in a 700c sizing. Please note that the freehub body is only Campagnolo compatible.