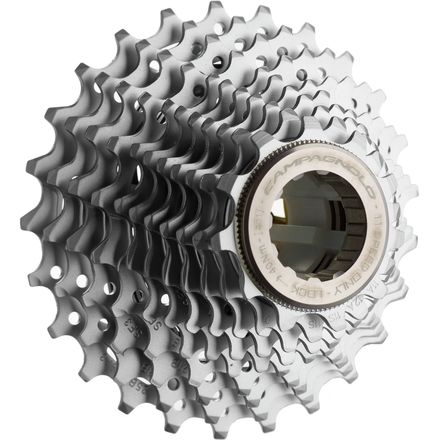 Colors
Description
The high-mileage option.
The Campagnolo Chorus 11 Cassette is made from steel, unlike its Record and Super Record siblings. This means a small weight penalty, yes, 29 grams over Record and 53 grams over Super Record, but the tradeoff is that steel wears much more slowly than the titanium used in the higher-end models. So, if you're riding Campy because you love the way it works over the long haul, opt for the Chorus cassette.
Steel cogs on an alloy carrier
Alloy lockring included
Chorus cassettes compatible with all iterations of Campagnolo 11-speed drivetrains, even the most recent
Unanswered Question
Does anyone provide the intermediate tooth numbers of the various combinations for the cassettes?
Is it possible to use this on a 10-speed campy hub? I am looking to be able to go back and forth between current setup. Do i need to take one cog off? Or can I use it as is. I have an 11-24 on their now and moved to an area where there is a lot more hills/climbing.

Best Answer
This will not work on a 10 speed set up, you would have to have an 11 speed derailleur, freehub body, and shifter.
Campagnolo 11 speed cassettes are compatible with 10 (and 9) speed freehub bodies. Per the manufacturer: http://www.campagnolo.com/AU/en/Support/can_campagnolo_wheels_with_freewheel_body_at_9_10_speeds_also_be_used_an_11_speed_groupset



However,you would definitely need an 11 speed shifter to make use of all the cogs, and possibly an 11 speed derailleur as well. Some report that a 10 speed Campy rear derailleur will shift properly if paired with an 11 speed shifter, but I can't personally confirm.



Removing 1 cog to "turn this into a 10 speed cassette" is not an option
Its heavier but at the right price
Familiarity:

I've used it several times
I have 3 bikes on Campy and 2 on Shimano.

The two on Campy are Record and the one on Chorus. I have to say, this is a heavy cassette (naturally) but if you can handle a little heavier, the cassette is flawless and works just as well as record.