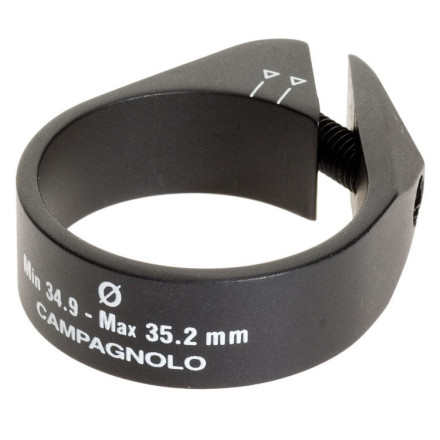 This is the seatpost clamp that comes with every Record carbon fiber seatpost. Not only is it one of the lightest clamps on the market at 21g, but it also features a revolutionary tightening system for maximum safety for any carbon seatpost out there -- not just a Campy post. The asymmetrical design of the clamp and the proximity of the binder bolt to the seat tube are intended to prevent damage, unlike conventional symmetrical clamps with a binder bolt positioned a greater distance from the post. Tightening a binder bolt at this distance means that a traditional clamp exerts irregular pressure on the circumference of the seatpost, crushing it and increasing the risk of structural failure. The asymmetrical design of the clamp ensures uniform clamping pressure over the entire circumference of the tube, thus reducing the possibility of damage. And it has a really cool Campy shield logo on it to give your bike a nuanced touch of class.
Campy's clamp comes in three sizes based on the outside diameter of the seat tube of your frame. In terms of our best selling frames, we specifically recommend upgrading to this clamp -- whether you use a Campagnolo seatpost or not.
The actual weights of the Campagnolo Asymmetrical Seatpost Clamp: 31.6-31.9 is 23g. 34.0-35.2 is 25g. 35.5-35.8 is 25g.