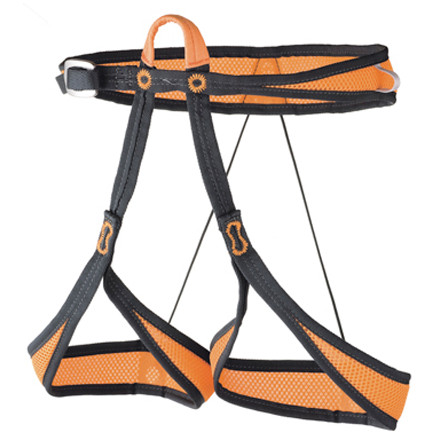 Community Images
If you think a fully functional harness that weighs less than four ounces is an impossibility, you haven't seen the CAMP USA ALP 95 Climbing Harness. Designed for ski and high-altitude mountaineering, this ultralight harness does the trick when you need the protection without the bulk and weight.
Two extremely minimalist gear loops hold the bare necessities
High, obvious tie-in point to get you on rappel quickly
Perforated synthetic fabric to keep from interfering with breathability
Perfect!
Familiarity:

I've used it several times
This is just what I was looking for and it does not disappoint.

Lightweight and uber-packable. You dont realise you have it on. This is comparable to Black Diamonds couloir which has a few more options but this packs smaller and is lighter weight. Ideal for glacier ski travel. I sized up just to adjust for wearing ski pants and the large fits perfect - I am a 33''waist
Great for scrambling
Gender:

Male

Familiarity:

I've used it several times
I bought this harness to use scrambling on routes where there are a few sections I want to rappel. It's perfect for that purpose. Obviously not as comfortable as a more beefy harness, but it makes up for it in terms of weight, and if you're just doing a few rappels, it's not particularly uncomfortable.



The gear loops are quite small, so I worry that for glacier travel or ski mountaineering I wouldn't be able to fit all the gear I want on the loops, but that may be because I take too much gear to begin with.
Perfect for Glacier Travel
This the perfect harness for skiers wearing a harness only for the possibility of crevasse rescue. Although it lacks quick-release leg loops, the harness is so light, and so comfy, that just put it on when you put on your ski boots. And yes, I have hung in it, for a 10 minutes (practicing), and it was still comfy.
This thing packs down smaller than my fist but packs a huge punch. It always lives in the bottom of my pack tied into the end of my rando line with a DMM Bugette and CAMP Photon clipped to it. If I find myself getting into a situation that may require roping up I just pull on the knot in my pack and boom, out comes the whole setup. No digging around or losing crucial pieces. It is light enough that it guarantees itself a spot in my gear list since I don't have to feel bad about the weight of it keeping my slow moving on the uptrack. Like Tris said, you wouldn't want to hang around in it all day, but you can rest assured it comfy enough for some raps and belaying.

PS. Tris is my ski partner.
Great for ski mountaineering.
This harness lives in the bottom of my pack with my DMM Bugette Belay Device, CAMP Photon Screw Gate Carabiner, and Beal Rando 8mm Dry Rope. This is an ultralight setup that is always in the bottom of my ski pack. This opens up many options as far as safely getting in and out of certain ski lines. The harness was designed to be a minimalistic piece and not designed for all day hanging. It is a great piece that can help you get in and out of dicey spots while adding a huge margin of safety. Also great for glacier travel in places like the Bugaboos.
Just finished up another successful trip using this harness. I love this piece of gear. Fully functional and so light it can sit in your pack for when you need it and it doesn't weigh you down or take up any space!
Write your question here...I am not a...
Write your question here...I am not a climber but my children climb. I am a taxi and Belay slave and am looking for a new harness. I often times am belaying for many many hours and need something that is comfortable and is safe to belay in. Would this be a good option?
Best Answer
hi mark, for the purpose you need the harness for, i dont think this is a great option. this harness is designed for alpine climbing and skiing where to be lightweight is key and comfort definitely isnt. so it wont be comfortable at all because they expect this harness to worn with heavy winter clothing in the place of padding. i would look into harnesses like the black diamond chaos or ozone, i can personally say they are incredibly comfortable for all-day affairs and perfectly safe. another good option is the Arc'teryx R320, but thats pretty serious price wise. theres many other ones, i just said the ones that are the top- of- the-line in comfort, just read reviews and people will tell weather or not its any good . and i have say that this harness is VERY specialized, and not very good for gyms and things like that, good luck with the harness search!
Where should you measure your legs for...
Where should you measure your legs for this harness? Do you measure where the harness would sit on your leg or somewhere else?
I would measure where the harness would sit on your legs. If you have a normal climbing harness that fits well then you could also measure the size of the leg loops on that harness.
you can adjust where leg loops hang on most harnesses, so measure where your preference is. if you have no idea, measure the biggest part of your thigh. my loops are a little below that part, but not far.
Hello, I have a leg size of 21 and waist...
Hello, I have a leg size of 21 and waist of 28, what size would I need in the camp usa alp 95 climbing harness?
According to:
http://www.camp-usa.com/products/harnesses/alp-95.asp
You're a small waist and medium legs.
While you might be able to squeeze into a small, and possibly a medium would close around your waist, its possible you're just not a candidate for this harness.
I've measured myself for harnesses before thinking that this or that model would fit great and been completely disappointed with the fit in person. So tough to say for you.