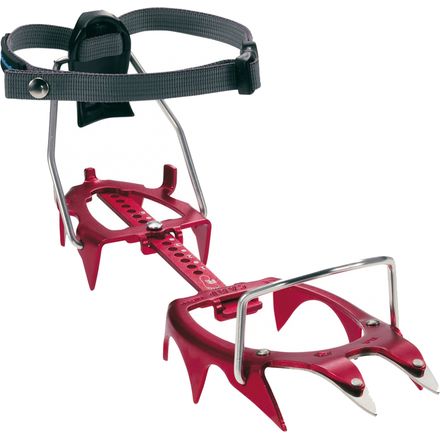 Description
Get steel performance at aluminum weight.
The Camp XLC Nanotech Crampons use an all-aluminum frame for amazingly reduced weight and have steel points for better penetration in hard ice and snow. Although these Camp crampons weigh only 16.9 ounces, their performance on hard neve rivals that of all-steel crampons. The XLC Nanotech Crampons come in two attachment options to fit either plastic mountaineering boots or your rear-bail spring climbing boots.
Steel tips let you use these crampons in places where other aluminum types will not work
Fits on crampon-compatible mountaineering boots and ski boots
Available in step-in and semi-auto designs
Ski Mountaineering
Gender:

Male

Familiarity:

I've used it several times
I picked a pair of these strictly on the advice of the best backcountry skier I know. I'll pass on his positive recommendation. These are very light. They work well with my Dynafit Mercury's. They are great for climbing snow w/o adding much weight.
I bought them for steep snow. Watch out for rocks. You sacrifice durability for their lack of weight.
I took them on 3 moderately steep tours last spring. They performed fine.
User reviews set backcountry.com apart from other sites. Read all the reviews on this page. Smart stuff and sage advice.
Reinforcement Where You Need It
Familiarity:

I've used it several times
These are an awesome lightweight crampon. I use them for general ski mountaineering. I used to have just aluminum but, I wanted something with some extra reinforcement in the front points. Sometimes adventures will bring you to rock and you want to keep the crampons on, its important you dont have to worry about the front points. They might get dull but I am confident they will not shear. The Nano Tech steel they use is not only light but, extremely strong. <br ></article><br />They are so light in fact, you could just bring two pairs of these versus one pair of steel. This means even if you are worried about them breaking (which could happen in extremely cold environment or tromping around on rocks bending them) its lighter to bring 2 sets as opposed to one steel pair. This also means that when you put them on your feet you are cutting your weight on your feet by about a lb. Definitely worth it in my book.
Lugging everything but my Nanotechs
IT was a sunny carry day on Vinson Massif, and I was pretty psyched to be near the top of the fixed lines, and super happy my crampons didn't weigh and ounce more! This super light pair was perfect for the mountain, where there was very little rock and reducing weight wherever possible was a big priority.
Do these need anti-balling plates?
Do these need anti-balling plates?
If you are using them in an area that tends to have wet or sticky snow you might want some form of anti balling plate on them.
I am a mountain guide, so I own alot of crampons, and each one has a use...these are the ones I bring along for neve (hard/firm snow) or when I don't think I will really need some. Great for this as they are so light and with the steel tips, you can actually get them to bite in when you really need to climb. If you are doing some all day walking in firm to icey conditions, go with a real crampon!
Would these work for mountains like Denile,...
Would these work for mountains like Denile, Rainier and timponogus???
Best Answer
I've seen a lot of aluminum crampons on Rainier among the guides. The "rule" seems to be, if you have solid footwork and aren't going to do a lot of scrambling around with your feet, and aren't going to spend a lot of time in scree, aluminum "should" be fine. YMMV
Vasque Radiator has an odd sized front toe...
Vasque Radiator has an odd sized front toe welt. My BD and Petzl crampons don't fit, as they're too narrow. My CAMP Vector also do not fit. [another site] says if you have tele boots use the automatic in this crampon, so it implies that the bail is wider. Is that true? Will it fit the Radiator?
I am unfamiliar with Vasque Radiator, but CAMP's crampon design tends to be wider than, say, Grivel or Petzl. Another crampon that is lightweight and wide is the Tour 350. It is, however, an aluminum crampon that is designed for snow/neve, and is likely to take less abuse than the xlc nanotech
Definetly light, but not the most well thought out or highest quality. Everyone else uses an allen head bolt or hex head, this uses a flat blade head bolt threaded directly to the crampon, obviously for the weight. Its almost impossible not to start stripping the flat head though while installing, be carful! Anti-bot plates are very difficult to install, don't do it on the field! They are also heavier than they should be for super light crampons. The price is way to high (although they are cheaper at BC) for the quality of the crampon.

KP
What type should you order for hiking...
What type should you order for hiking boots?
The ones pictured. The Automatic, will work just fine.
Best Answer
Wait, are the names of the pictures wrong? I thought "automatic" usually referred to step-in (i.e., with toe bail wire). The specs have it the way I would expect.
Maureen, for hiking boots you'll need the semi-automatic - there is a plastic strap in the front that will accept the front of the boot. Make sure your boots have a heel counter - a small, flat edge at the heel to accommodate the locking system at the back of the crampon. Otherwise, the crampons will not stay on well enough for snow/neve travel on horizontal surface, let alone on steep terrain
Can the "universal binding" version be...
Can the "universal binding" version be used with trail runners and lightweight hiking boots?
, ☃bcs_badge_alumni_label☃
Best Answer
Yes, the "universal" version will work with lightweight hikers or trail shoes.
Do you have the AUTOMATIC ?
Do you have the AUTOMATIC ?
, ☃bcs_badge_alumni_label☃
Best Answer
Yes, the "select option" drop down displays all versions available.