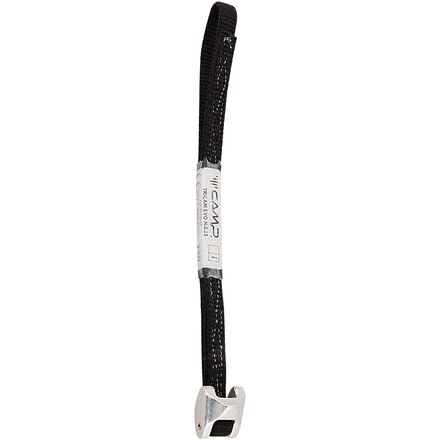 Colors

Community Images
Description
Your go-to protection for pockets and horizontal cracks.
With a new design that features three placement nodes instead of the traditional two, the Camp USA Tricam Evo is your ticket for secure placements in pockets and horizontal cracks where nothing else seems to fit. The Tricam Evo is available in four sizes covering a range between 0.25 and 1.5 inches and features stiffer sewing on the slings for easy one-handed placements.
New design features three placement nodes (two passive, one active) for a more versatile range of placements
Ideal for protecting horizontal cracks and solution pockets
Wide section at the top of the head produces additional taper for increased stability in cammed placements
Stiff sewing on the sling allows for easier one-handed placements
Available in four sizes covering a range between 0.25 inches to 1.5 inches
Usually these have mixed reviews
Familiarity:

I've put it through the wringer
Tricams inspire love or hate, depending on where you are using them, and whether you do more leading or following.

I bring them on most of my climbs, and my climbing partner always bring them, no matter what. The original tricams are good for having a relatively versatile, lightweight piece of pro for weird placements where I can't find something else that works. The Evos are even better, providing even more different orientations for placements.

I'll agree they can be harder to place than a nut or a cam sometimes, but once you figure out what kinds of features they work on (pods, weird crack constrictions too big for a nut (or one that you used already), they end up being super useful.
I'm not on crutches
Familiarity:

I've put it through the wringer
first, you should not fall. But if you do, the pink one is pretty bomber. They obvously get weaker as you go smaller, but the Pink is plenty strong enough to cover a whipper.



I took my first lead fall on the pink one, and it was frightening, but the catch was sound and i am thankful for the placement.

Definitely a valuable addition to any kit. i place them before i place cams half the time.
Comparison of Evo to old Nylon Tricam
As you can see, the Evo webbing is nice and stiff for easy one-handed placements, while the nylon is quite flaccid in comparison.. You can also see the red [1] and black[.25] tricams in the background



The pink is probably the most useful- Smaller pieces are weak and often harder to clean, larger pieces start getting heavy, and the weight is often better reserved for cams.
Great gear once you learn how to use it
Familiarity:

I've put it through the wringer
I always keep a few tricams on my rack, and I use one or two on almost every trad climb in the Gunks. Yes, they can be tricky to place securely, and even harder to clean, but a well-placed tricam is bomber.



It's often the safest piece for horizontal cracks. Using a cam in horizontals is sketchy at best, but tricams are perfect for that if you can find a good spot for it. I find the pink (#.5) and red(#1) to be the most useful. I sometimes use the black (.25) also, but it's only rated at 5 kn. I sometimes use a screamer with the smaller pieces to increase the safety, but the white one is too weak even with a screamer (it's 3kn in active mode, rated only for aid climbing)- it might just slow down your fall to lessen the impact on the next piece..



Just learn the placements well and always use a quickdraw or trad draw to minimize movement, I've seen some very sketchy tricam placements by other climbers.



The Evo is a vast improvement over the older nylon tricams, the stiffer sling makes it so much easier to place. Overall, tricams are really versatile and lightweight piece, and if you take the time to learn how to use them, you'll find them very useful. I recommend everyone pick up at least the pink, red, and probably black tricams.