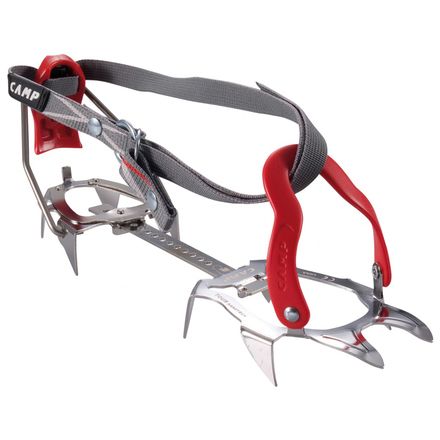 Available with an automatic, semi-automatic, or universal binding system, the CAMP USA Tour Nanotech Crampon is your go-to choice for lightweight traction in the world of snow and ice. The advanced Nanoflex steel undergoes a specialized heat treating process that makes it 30% stronger and 20% harder than traditional stainless steel, allowing for an ultralight crampon design and thinner, sharper points that easily penetrate hard snow and ice.

Sandvik Nanoflex Steel is 30% stronger and 20% harder than traditional stainless steel, allowing for a lower weight and thinner points
10 sharp points easily penetrate hard snow and ice
Included anti-balling plates prevent dangerous snow build-up
Automatic bindings will fit most AT, Tele, and full-rigid platform boots
Semi-automatic bindings will fit most semi-rigid mountaineering boots
Universal bindings will fit most hiking and mountaineering boots
CAMP USA recommends using the Tour Nanotech Crampon for boot sizes 10.5 and below, for larger boot sizes use the XLC 490 crampon
Awesome
Familiarity:

I've used it several times
I seem to have a much better experience with my crampons than many of the reviewers below. Most crampons in my experience do not fit every boot heel on the market. The heel profile between an AT boot, Ice boot, and hike/light mountaineering boot is extremely different. I have used these on everything from Asolo ice boots, La Sportiva Trango's, and Dynafit TLT5's for splitboarding and have never had any issues. The heel on the dynafit is extremely narrow and does not contact all sides of the heel "cup" however that has never been an issue or created slop/popping off of the crampon.

The nanoflex steel on these is incredible and these are so light there is no reason not to take them on any alpine adventure. these are not meant for kicking into ice, but will last when used as a general mountaineering crampon when stepping on snow, glacier ice, and rock.

If you have any questions on these or are concerned with fit please contact me

Dan Gates
Expert Gearhead
801.746.7582
dgates@backcountry.com


Good if they fit you boots!
Familiarity:

I've used it once or twice and have initial impressions
The center bar in these is very short and will *just* accommodate AM size 10. I bought the semi-auto for my size 10 Salewa Rapace-- the fit is good but its like they were designed for this boot only.
Will theses crampons fit the women's La Sportiva Nepal EVO?
Actually...not even close. I tried the step-in or automatic crampons and they were much wider than my boots. Kit posted a comment below with a photo. That's about how they fit on my boots. NOT for use with La Sportiva Nepal.
Great for fast and light
Familiarity:

I've used it several times
Just wanted to offer a quick plug for these crampons. I think they're great! This summer I was looking for a nice light weight alpine crampon where I knew I'd be carrying them a lot, and I wanted something more resilient than aluminum. I wear them on a size 43 Salewa Repace and haven't had any problems. Bite excellently in icy glacier snow. Recommended them to a friend and she loved everything but the anti-bot plates (little flimsy). But the steel is nice, holds well to the boot, and has a little flex which is nice for 1/2 and 3/4 shank boots.
Meh
Familiarity:

I've used it once or twice and have initial impressions
I don't understand what boots CAMP is designing their crampons for. I have tried the Nanotech Tour and the Race 290 on several boots from the major touring and racing manufactures and the same problem as the other reviewer noted being too wide. It is unacceptable and unnerving to have your crampon shift under foot.

I have 6mm of space on my Garmonts and 8mm on my Dynafit PDGs with similar spacing when I fit them on store models. Great ideas CAMP but fail in research and development.
Beware proportions/fit
Gender:

Male

Familiarity:

I've used it several times
NOTE: This review is of the 2012 model. It is unknown if the 2013 model has a different fit. These are too short to fit a normal men's size AT boot. I'm a size 28.5 boot and my Scarpa Maestrale's have a boot sole length of 322mm. The crampons come with a 17.5cm center bar and I don't believe a longer center bar exists, because CAMP USA was also unable to provide me one. CampUSA wanted to hear from me about these crampons but then would not return emails.



My wife decided to use them on her size 24.5 Dynafit Zero4UTF AT boots. They were a little wide but she decided to give them a try. She climbed both Rainier and Adams in them and they came off several times. Not good.



So they're generally too wide for her boots, and they're too short for my boots (but now that I look even if they were long enough the heel tabs would be too wide for any AT boot that I know). We've both resorted to purchasing Grivel Haute Route crampons which fit both small and large perfectly.



They're also waaay too wide for her US8 Montrail Olympus mountaineering boots. If they were long enough to fit my US11.5 Scarpa Triolet mountaineering boots (they're not even close and the toe bail wouldn't work anyway) the width might actually be about right. I really wanted these crampons to work, because I feel the Sandvik steel would outperform other crampons for our intended use, and they are SO LIGHT.



Unfortunately, I can't find a boot anywhere that will fit them.



UPDATE: Backcountry gearguru told me they would accept these as a return. Gotta love a company that stands behind the product they sell! They're still my favorite online retailer.