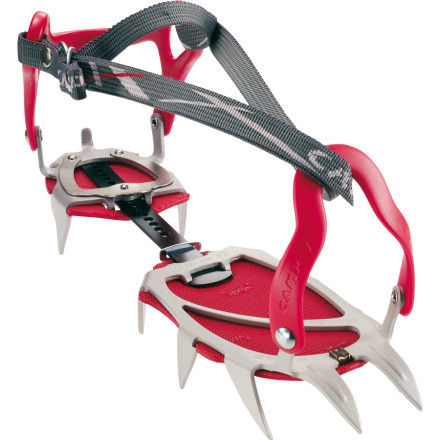 Community Images
CAMP USA made the Stalker Crampon with Cro-Moly steel to handle anything from steep neve to WI3 on your way to the top of your route. Get the full-strap design for use with a variety of footwear, or go with the hybrid design for more stability when you're using mountaineering boots. CAMP included anti-balling plates to ensure snow doesn't stick to the bottom of these crampons and compromise your traction at the worst moment.
Crampon case included
Anti-balling plates keep snow from sticking to these crampons
Full-strap option works with any boots or even shoes
Cro-Moly steel construction works in neve snow and on hard ice
Great Crampons for the money
Gender:

Male

Familiarity:

I've put it through the wringer
I routinely carry these spikes with me on three seasons worth of hiking in the Adirondacks. They are fairly light. I like to keep them handy when hiking mixed terrain so the included carry bag helps keep your pack from ripping when you strap them to the outside of the pack. They go on easy, once you know how to use them. They stay pretty tight, although the random hiking break always calls for a good snugging down. I would not purchase any crampons with less than 12 points, the added weight is worth not having hot spots in your boots. 10 & 8 point crampons generally cause blisters in my experience from lack of support on the soles. I've even used these spikes on shear slick rock, only weeks after hurricane Irene introduced tons of new slides to the mountains in the 'Dacks. Bottom line, great spikes for the money.
Are these sold as a pair?
Are these sold as a pair?
Yes. 2 crampons and a carry case with instruction manual in the box.
Good General Use
Gender:

Male

Familiarity:

I've used it several times
Picked these up for icy trails in the White Mountains. Have only used them on trails, and non technical ascents, but for this they worked great. Also impressed by the wide range of footwear this crampon fits to.
LEAVE THE KLUNKERS BEHIND
STAP ON STALKERS OVER GORE-TEX APPROACH BOOTS AND GAITORS. WORKER FOR ME ON RAINEIR IN JANUARY........
Hey does anybody know if these will fit a...
Hey does anybody know if these will fit a size 11 (i think) "Sorel Caridou" boots? Yes i now they are snow tredging boots, BUT! i did make it up to the tree line of Mt. Washington in them.... Then realized Crampons would be a safe bet for the rest. Anyone now if these will fit?
It might be a bit tight, but you shouldn't have any problems once you get it adjusted
I have tried them on my Sorel's and they do fit.
For the money they are great, worked as well as my friends petzel vasak, only they are not as easy to take on and off. they even fit my size 11.5 boots which is rare with out having to buy additional parts. i would recommend them to anyone doing their first mountaineering trip as they are a great value and fit a wide variety of boots. worked well on my trip to the white mountains in mid march. they feel sturdy and the bite is excellent. Great for first time mountaineers.
These are sturdy strap style crampons that do what they are supposed to do. They are great for hiking and non-technical climbs. They come with anti-balling plates and are made of sturdy steel that hold their edge a long time. They are a little heavy but for an entry level price and steel that is to be expected. Also includes the black case which is extra with most brands.
Just what I was looking for...kinda
Great non-technical crampon, it really is. Stays on the feet. Easy to put on and take off. Durable, bites into snow and slightly inclined ice. BUT eats your boots up! This crampon will last but not sure how much longer my boots will. Tore up the toes and heel badly. In the making of some kind of cushioning for the boot between the crampon, we'll see. wouldn't buy this if your planning into getting into the alpine world. Wish they gave half stares...2 and half stares just because of the damage.