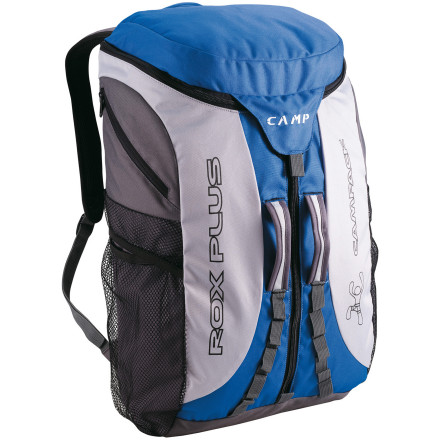 Haul all your gear out to the crags with the Camp USA Rox Plus Bag. With 45L (2750 cubic inches) of space, it's more than ready to hold your rope, harness, and other gear.
Duffel-style zipper opens up the main compartment so you don't have to reach into the black abyss to find what you need
Ventilated back panel and shoulder straps keep you comfortable on warm days and sunny approaches
Waist belt and adjustable sternum strap help distribute the load
Two external mesh pockets with cover flaps and two external zip pockets keep your small items organized
Exterior gear daisy chains organize whatever you couldn't fit inside
Large, comfy handles make for easy grabbing
I'm glad I bought this (at half price) before they sold out. I was looking for a large rope bag with adjustable shoulder straps, and came across this. It also has a waist belt, adjustable (for height and length) chest strap, grab handles on top and front, zippered pockets, and gear loops. No issues with the chest strap. No complaints about the lack of a tarp, which may be why it was half price. I can buy my own rope tarp and still come out ahead. As far as quality, I did spend half an hour with a butane lighter dealing with the many dangling threads that are typical for a sewn-in-China product, but everything was attached well and there were no obvious defects. The material used is not heavy-duty, and time will tell how it will hold up to use at the crags. I didn't want to pay more than $50 for a rope bag, but I wanted the extra features and understand that I will have to treat it gently to make it last. It is definitely not a backpack designed for camping or day-hiking, but as a rope (plus gear) bag, it should do everything I want.


First the label on the pack and the rox website said all rox plus packs come with tarp. However this pack does not. Second the sternum strap has a manufacturing defect. On one side the strap pulls of the height adjustment. I returned the pack to Backcountry hoping the tarp was just left out and the sternum strap was just a one time event. I was wrong. Backcountry checked for me and none in stock have a tarp and all of the packs have the sternum strap malfunction. The pack was big and seemed somewhat comfortable when loaded with rope and full rack (and still had plenty of room). For the price I would of kept it if it came with a tarp and sternum strap issues were resolved. :(
I was psyched to get this pack for cragging. One zipper and the sternum strap broke before I made it out of the parking lot the first time I used it. The shoulder straps attach to the pack right next to each other, so they really bit into the back of my neck while carrying it.
What are the dimensions of the tarp and...
What are the dimensions of the tarp and does it have a loop to tie the ends of your rope into so you don't lose them in the pile?
i have no idea on dimensions but there are rope tie-in points
Does this pack have the built-in rope tarp...
Does this pack have the built-in rope tarp like the 2010 model?
The newest models (2012) do not have a tarp.
I really wanted to love it... but it broke my heart.
I generally like CAMP USA products, as I consider they are of great quality, design, and price.
As for this pack, it is MOSTLY well made, but there's a small design flaw, which could be fixed to save an otherwise great overall pack: the side mesh pockets.
These two pockets are designed to hold some items that you would need to access more often (i.e. your climbing shoes).
The problem is that the material of which this mesh is made proved to be very weak. I bought this pack to take to Arkansas on a week climbing road-trip and on the FIRST day the pack softly scraped a rock and tore two holes on the mesh. This is supposed to be a CRAG pack, MADE for that environment (ROCK), so one would assume it should be able to sustain a little wear. It DID NOT. I almost considered keeping the pack with the torn side pockets because to be fair, other than THAT problem, this is an amazing pack. Plenty of room for rope and gear, even some food and bladder. But I decided not to, as I feel it is not fair that a pack designed specifically for rock climbing does not endure past THE FIRST DAY of its FIRST TRIP.
Going for the Arcteryx MIURA 50 instead.

* This review is for: http://www.backcountry.com/camp-usa-rox-plus-bag-3050cu-cmp0149
* It's essentially the same pack so I'm leaving my review as a guidance, basically because the mesh side pockets have the same design flaw.