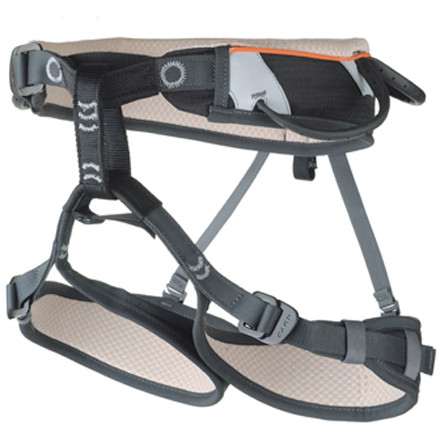 Community Images
Forget about a harness quiver, the CAMP USA Quartz CR3 Harness is your go-to safety net for everything from a sketchy ice route to multi-pitch trad climbs. CAMP's Edge-Load Construction distributes weight across the length of the leg loops for total comfort, and the fold-over Sliding Waist Belt System helps eliminate pressure points.
Quick adjust leg loop buckles accommodate extra layers in the winter
Fold-over waist-belt design eliminates the standard top pressure point
Four large gear loops to hold everything for a multi-pitch route
Its cool and all but......
Familiarity:

I've put it through the wringer
I've been using this harness for about 5 months, and I've put some wicked time on it. I don't agree with the people that say its not comfortable, I've found it very comfy. The moving/adjustable hip belt is cool but I don't think its necessary , I've never felt the need for it before and I don't use it at all now. The slot in the belay loop is cool... I guess, but I don't like using it, I feel its awkward. Finally as far as the negatives go the gear loops are flimsy and that drove me nuts at first but I've gotten used to them. As for the good the tags from the buckles stow away very nicely, and I've found this to be one of the most comfortable harnesses I've ever worn, with or without a shirt on. In the end I feel mixed about it, so I guess that means I would not recommend it, just because its gimmicky, made in china and all over lackluster its not hot or cold just lukewarm.
Not a Good Harness for Long Belays
After seeing this harness highly reviewed by supertopo and almost every independent reviewer, I went and tried on a slough of harnesses myself and still chose this one for comfort. True, the gear loops are a bit flacid, poorly placed and generally uninspiring, but it felt so good!

Then I climbed in it. Granted, I put it to the comfort litmus test and went aid climbing in it, but after a mere four hours of sitting in hanging belays I almost could not stand it anymore. The problem was unexpected, and here's what happened:

The padding in the harness was great at first, but what's really keeping you safe is a piece of flat webbing that looks to be under an inch in width, running through the 3" wide padding. After sitting in the harness for a few hours I had already managed to break the nice padding down so that I could almost exclusively feel that narrow, flat webbing. One of the things that makes harnesses comfortable is how they diffuse the pressure of your weight over a greater area, so to be sitting not on 3" of padding but less than 1" of webbing is a big difference. I essentially wasn't benefitting from the padding much at all.

I had adjusted the harness up and down my lower back and along my legs to disperse the discomfort, but after 4 hours there was no place left that was not extremely sensitive. I've aid climbed in several harnesses now and I understand things get uncomfortable, but this is absurd. Climb the Nose in it? I'd rather get kicked in the belay loop. I will be buying another harness and trying to sell this one to someone who isn't looking to climb long routes in it.
This harness is not very comfortable. The padding on the waist belt is pretty stiff and the leg loops taper down a lot and dig in where the leg loop is narrow. The dimensions of the harness just seam off. I am right in the middle of the size range so it wasn't that I had the wrong size. The harness's belay loop is small so it brings the leg loops up too high and material from the belay loop to the leg loop is also short, bring them up more. Also the gear loops are not that great. I was very disappointed with this harness especially for the price and what I heard for other reviews (Supertopo). I have a blackdiamond momentum SA and thought I was upgrading, but this was a downgrade. If you are looking for a harness with speed buckle save $10 and get the blackdiamond momentum SA. It's lighter, has better gear loops, and is way more comfortable than this harness.
Unanswered Question
Anyone have a comparison review between...
Anyone have a comparison review between the Camp Quartz CR3 and the Camp Jasper CR3?
Pros:
• Speed adjust
• Super comfortable
• Affordable
• Durable
• Orange (highlights)
• Highly adjustable

Cons:
• Gear loops kinda suck

This harness is amazing. I could climb in it all day. The only downside is the awkward positioning and relative floppiness of the gear loops. The side loops are decent, though angled a little strangely, but the back gear loops are directly behind you and sometimes when you're fumbling for your last quickdraw while sliding off a sloper it's not a whole lot of fun. Aside from that it's downright steller!
The ability to custom adjust the center position of the waist belt is a simple but profound innovation. Ever notice that the front of your harness is centered, but the but the back is slightly off to one side? This is because your unique tightening needs (which also vary depending on weight and clothing changes) are different than the idealized "person" around which that harness was designed. The Quartz CR3 allows you to custom adjust the position of the harness in your optimum tight position -- and is easy to re-adjust when conditions change. I tried on 9 harnesses looking for my next one. All of the BD harnesses failed my expectations for comfort -- because the BD method of attaching leg loops creates pressure points via the metal attachment connecting to the center of the loop, rather than along the edge (and thus out of contact with my leg). A bummer, because I consider the BD harnesses to be the best looking of them all. Maybe CAMP can figure out how to tone down the multicolor splashes -- this wonderful harness reminds me of those once popular Holstein cow patterns. And frankly I may go for the Petzl Corax or Calidris for that reason.
I have a medium and 30 waist, I can cinch the harness up as far as it will go. That said I tried a couple sizes and the medium was more comfortable (more padding than the small). The comfort is outstanding with almost no pressure points. The sliding padding works well to keep your tie-in centered. Fabric is soft and feels good against bare skin. Gear loops are ok, not the best. They are covered in rubber and sometimes biners get caught on the rubber. They are a little far back for my tastes. It has 2 slots for ice clippers, but they are kind of far back as well. The waistbelt and leg loops never need to be doubled back which saves time when putting on the harness. The harness is on the heavy and bulky side.
im trying to choose between this harness...
im trying to choose between this harness and the singing rock balance II which one should i get.this is my first harnesss.
Go with the camp harness, the padding is better (rolled on the top of the waist swami) and there is a cool adjusting feature where you can shift the padding so that it is always centered. The gear loops on this one look better too.

Spending a little more on your first harness is probably a good call, as its likely that it is going to last you a really long time.
Get the camp. Far more comfortable and higher quality than the singing rock. I have both the Camp quartz cr3 and the Singing Rock balance 1.
anyone know how much this weights?
anyone know how much this weights?
It is 15.5 oz for the small per the CAMP USA website. It doesn't list weights for the other sizes but that should hopefully give you a baseline guestimate if you are looking at the M or L.
With a 30-32 inch waist, and it fits perfect. No problems whatsoever, gear loop placement is awesome, fits perfectly, awesome harness.
One Harness to Rule them All is right. The distribution of weight is perfect. This harness is the most comfortable one I've ever used in my 10 years of climbing. Recommend to everyone.