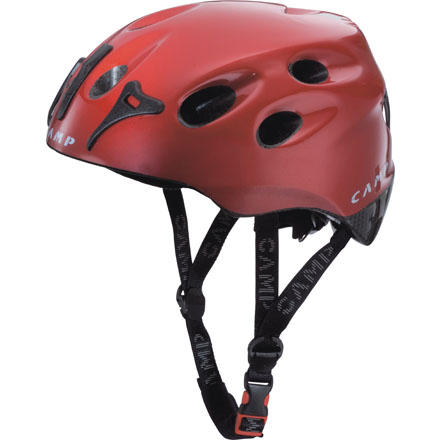 Colors

Videos

Community Images
Description
Head protection for up and down.
CAMP created the Pulse Ski and Climbing Helmet for serious ski trips that involve technical pitches on the ascent followed by steep, must-not-fall runs. Rated as both a ski and a climbing helmet, the Pulse gets the job done for several pitches of steep ice as well as a tight couloir descent.
Vent plus and insulated earflaps available in the Pulse Winter Kit (not included)
Ultra-light construction keeps you from getting weighed down
Large vents keep your head from overheating
Ratchet-back adjustment strap lets you perfect the fit when you add a beanie
Unanswered Question
I've read a lot of reviews saying that the size 1 is significantly smaller than advertised, (52-57CM) is there any way you guys could give us some hands-on measurements that may be more accurate than what the product info states?
Comfortable and lightweight
Gender:

Male

Familiarity:

I've used it several times
I hate helmets. I only wear then when I really need to. I wore this climbing Nevado de Colima in Mexico in 70-80 degree temps and found it to be remarkably comfortable for a climbing helmet.



Also wore it for early spring climbs in Colorado and Wheeler's Peak in NM and was pleased.



Just recently a local ski area started requiring helmets for their lift-served areas. I wore this over a Serius full-face balaclava found it extremely comfortable even on what I would have normally considered a two-hat night.
Light and Rad and Comfortable!
Familiarity:

I've put it through the wringer
I love this helmet! I wear a 7 1/8" hat size and the small/medium is perfect for me. I have the helmet for a little over a year now. I climbed with it all summer in Utah, I have used it canyoneering, mountaineering, biking around the city at night (so i can have a helmet compatible with a headlamp) and now I use it for ski touring. It's a true all-arounder. Ventilation leaves a bit to be desired, but it catches sweat well, and I really don't mind it at all in the summer. Much more protective than a typical climbing helmet because it is rated for ski impacts. I feel safe in it, and its so comfortable I often forget its on! I love CAMP products for their low weight and innovative designs. This helmet does not disappoint. I've probably had it on my head well over 100 times.
CAMP USA Pulse Ski and Climbing Helmet
Best helmet for skiing and climbing
This thing is light, strong, and actually stays on my head. I haven't found any suspension type helmets that don't slide back on me, but this one stays put. It also works well with goggles so I don't look like a gaper. I took a huge block of ice on the head and it absorbed it fine, just left a decent dimple in the shell. I've smacked my head hard on the snow twice when I caught an edge skiing and didn't end up with any thing more than a rung bell. Can't find anything to replace it with and I don't need to. Winter or summer, anytime I need a helmet for climbing or skiing, this is it.

PS: Don't buy the winter kit, it's a waste of money. Just wear a beanie under the hat. I've never needed the vent holes plugged and the earflaps don't stay put.
Year 'round noggin protection
More than warm enough for even the coldest outings and cool enough for the hottest summer crags. I love this helmet! If you are looking for a good fitting, cool looking, extra versatile helmet for all sports. This is it, no looking back!
I bought this mainly for b/c skiing and rando racing. I got tired of having my big Giro helmet flop around on my pack while skinning, so I bought this and wear it often even when skinning. It is light, has vents that can be closed or left open, and the ratchet helps you dial in the helmet fit.

It isn't the lightest helmet out there but it does provide alot of coverage and has an outer shell which I think would improve durability unlike the speed. Maybe the trango skull cap would be a lighter option, but I've been happy with Pulse.
I would rate this helmet between 2 and 3 stars. The good: I certainly like the low weight. The earflaps are warm and the level of protectiveness seems good. The bad: unfortunately the velcro to hold on the earflaps does not work at all and they come off constantly. I wrote to CAMP to request the older clip in earflap system, but they never responded. So I resorted to gluing on the earflaps which will make the helmet too hot for most of my spring skiing. The fit of the size 1 is also very tight as mentioned in previous posts. So overall I am lukewarm about this helmet and will probably look for a replacement soon.
I got this helmet to have a helmet for BC telemarking and climbing and hopefully someday for minor ski-mountaineering.

It fits fine, this is of course subjective and it shouldn't be expected that the helmet will fit like a glove on any head it rests on.

The winter kit works just fine. After one season the plugs still fit nicely into their spots. As they are just foam plugs I would wager its not to hard to manufacture up your own if you had the gumption.

The only problem I had was I didn't install the extra velcro to secure the ear flaps of the winter kit. They still work just fine when the chin strap is clipped but sometimes are a pain to get in place.
Same as everyone else - weird fit!
I can't really fairly rate it since it just simply didn't fit my head. But like many others this helmet seems great on paper but neither the size 1 or 2 would fit my head right. I ended up with a BDel Tracer which seemed much more comfortable for my head shape but sacrificed the skiing rating.
Does this come in an XL or XXL size for...
Does this come in an XL or XXL size for big heads? Hat size is 7 7/8.
7 7/8 = a 63cm head circumference, this fits comfortably up to 57cm. It would be tight.
Unanswered Question
Does this come in an XL or XXL size for...
Does this come in an XL or XXL size for big heads? Hat size is 7 7/8.
Good for summer climbing? Is this helmet...
Good for summer climbing?

Is this helmet too warm for summer climbing? I'd love an all-season helmet, but I've heard some people doubt that this would be a suitable helmet for summer trad climbs.
, ☃bcs_badge_alumni_label☃
It will be fine for the summer. In order to winterize it you have to purchase vent plugs and insulated earflaps so it it comes already ready for climbing.
No problems for summer climbing, even when its super hot.
Hi - any photos of the inside of the...
Hi - any photos of the inside of the helmet?
Sam, I hooked you up with some of those, check it out.
I have a large oval shaped head and even the XL was a little small, but I was easily able to make it a touch bigger with a grinding tool. Light weight, functional, good looking, the headlamp clamps are great. Too bad I dropped it on Mont Blanc and had to watch it tumble 1,000 feet down to its perminant resting place at the bottom of a crevasse. Now I need to reorder.