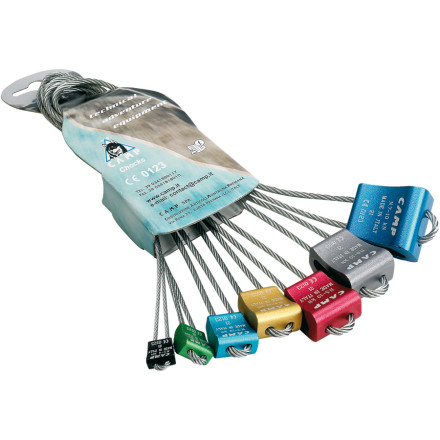 Color-coordinate with CAMP's world-class Pro Nut Set. Trad racks are always in need of improvement, and nothing feels better than reaching for a smorgasboard of protection when you're 30 feet off the deck and in need.
Good for your first rack
Familiarity:

I've used it several times
These are a solid option for a first rack. They are easy to place and the grooves help with cleaning. The color makes picking a nut a quick process. The nuts are sturdy and will hold you on the first fall as you slip setting the next pro as you learn to Trad climb. Over all good product that is easy to expand upon.
why is this in the active protection...
why is this in the active protection section?
Good question, backcountry?
Good starters, especially on limestone
I'm sure there are better nuts, stoppers, etc but these are excellent pro. I climb on limestone (hardly any clean, uniform cracks) and they always seem to be the right size and snap down bomber tight in the rock.
They work, but there are better.
I have had a set of these for 7 months. The pros are a longer wire than BD's and the curved shape fits bulges well. The cons are that the smallest BD#5 equivalent is only rated to 4kN and the BD is 6kN, the curved shape doesn't work in uniform constrictions as well as the BD nuts and there are some gaps in the size range. For what you get I would recommend the BD Stoppers or the DMM Wallnuts over these. That being said, nuts are pretty simple and these would still hold a fall if placed correctly.