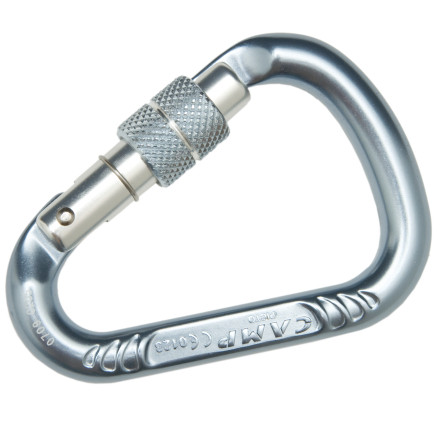 Detail Images
The CAMP USA Picto Screw Gate Carabiner is an ideal choice for an all-around locking biner for anything from alpine belays to cragging at the local cliff. The smooth pear shape lets the rope run fluidly through on belays or rappels, and the key-lock nose eliminates snags when clipping into webbing or cord.
What do you think about this product?
Have questions about this product?
I've had the older version of this locker for three years now and have found it suitable for most of my needs. I really like the round bar stock but agree with the previous reviewer that noted that the biner shape is prone to twisting while belaying. Makes for a smooth rappel but I use my Petzl Attache more often lately.
Bought this to try out with my belay device, does ok, although it does spin around a lot

Pros: Smooth stock results in not a lot of friction, which makes this carabiner nice for fatter ropes. Keylock is easy to unclip from anchors or ropes. Burly 10kN strength when crossloaded. Cheap

Cons: Triangular shape makes this guy shift and flip a lot when belaying. Spine is not round like the rest of the carabiner. Likes to rest on the flat spine when used with an autoblocking device off of the anchor. I've seen smoother screwlocks.

Not bad, but you should probably just get a Petzl Attache.

Hope that was a help
This is a sweet carabiner, especially for the cost. It is lighter than most of the black diamond carabiners and cost a lot less, so you are getting the same quality and strength for a lot less money.
They are great for building anchors, using prusik or even belaying. I have had mine for over a year, and love em!