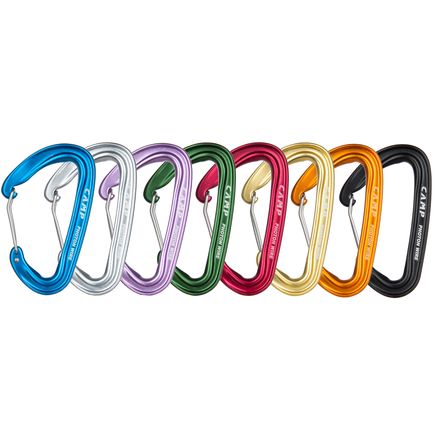 Colors

Community Images
If you can't get enough of Camp USA's ultra-light gear, then reach for the Photon Wire Rack Pack while packing for your next crag adventure. Functional when paired in quickdraws or just when used for racking gear, the Photon offers full strength ratings at much lower weights than comparable 'biners on the market.
A single 'biner weighs just 29 grams, offering unsurpassed strength-to-weight ratio
Gate clearance of 28mm accommodates full-diameter ropes
Wire gate reduces risk of gate flutter and cuts weight
Awesome Light weight Full size biner
Familiarity:

I've put it through the wringer
Overall, these are an awesome, lightweight, full sized carabiner.

Gate Size:
The gates on these are plenty big and super easy to clip. Nothing more, nothing less.

Biner Size:
These are a full size carabiner. A little big for my liking but still an awesome biner over all.

Color Coding:
I have these matched up on one set of Master Cams and love the color coding.

Weight:
For a full size carabiner, it's ridiculous how light these are.

Pairing:
I currently have these on one set of Master Cams. They're a bit big for my liking but still light weight which is critical carrying a double rack.

Shoot me an email if you have any questions about these carabiners or any other gear!

Jared D.
Expert Gearhead
801.736.4336
jdowns@backcountry.com
From Top Left to Bottom Right:



Mammut Wall Micro Locking - MAM004G

Mad Rock Ultralight Wire Gate - MRC0074

Trango Phase Carabiner - TRG0063

CAMP USA Photon Wire Straight Gate - CMP3296

Black Diamond Neutrino - BLD0851

Black Diamond Mini Pearabiner Screwgate - BLD0729

Omega Pacific Five-O Screw Lock - OGP0029

Petzl Am'D Locking - PTZ0129

Trango React Screwlock - TRG000K



Jared D.

Expert Gearhead

800.409.4502 ext 4055

jdowns@backcountry.com
Perfect size for my large hands!
Familiarity:

I've put it through the wringer
When I first picked these up I was concerned they were a bit large. Not so, after building some Alpine draws I found there are a lot of advantages to these biners. First off they are light! Anyone who has held a full rack of gear on their harness will appreciate this very much. Second, The gate opens smoothly and facilitates clipping the rope, bolt, cam, or stopper. Third, it was nice to have some colors that coordinated with my Metolius TCU's. Finally their large size is a perfect fit in my hands. Id definitely get more of theses bad boys.
Learn why the Photon won an American Alpine Institute Guides Choice Award.
Great for racking
Familiarity:

I've put it through the wringer
These are great for racking and match up to Metolius or BD cams. Great value as well. Even though they may look and feel light - they've worn strong for me and great to use.
Super light non-lockers still rated to 21kN, gates open incredibly easy. Use them for racking, extendables, etc.
good value, Nice Biners
Gender:

Male

Familiarity:

I've put it through the wringer
I bought two packs of these biners after fumbling with my rack and being frustrated. I am very impressed with the handling, shape and build. These are 29grams each and the size of a Wild Country helium or nitro, that is to say the perfect size for desperate clips where you just try and slap the rope in the biner. the size of the biners is a plus in my book and the aditional colors in the pack (Black Orange) help me sort out the mess of, Aliens, BD, Wild Country, Wired Bliss, Metolius...ect

on to the perceived negatives. Camp has had a recall on the gate tension issue, its fixed solid tension and better QC on the drilled holes for the wire gate. it looks like they can open because the nose is not shielded. well, its not but nether is the nose on every solid gate biner ever. the gate tension is roughly the same in these wire gates as my Wild Country, BD and DMM biners. It is also close to the tension of my Spirit draws. in my opinion its a non issue the drag of the rope extends the sling keeping it away from the rock and in a fall, your body falling backwards keeps the biner off the face. unless you bury your cam so deep that the biner is resting on the edge of the crack,you will have no problems . they also have a perfectly adequate open gate strength.



final thoughts, for the money and weight you cant go wrong. much better handling than the neutrino for my big hands. if you want a step up in build get the Wild Country Helium Color packs, the Specter 2, or Alpha trad rack packs. which are only 5 or 6 biners in a pack for the same price or more
Fancy colored, match Metolius 00-6 cams
They match Metolius cams #00 to #6. They are light. It's all about pros.

Cons: feels too easy to open, looks and feels too thin and fragile. Yes, I understand that "looks and feels" is not about binners but about my perception.

I would prefer to have an opportunity to get the same colored DMM Alpha Trad, or DMM Photon, or BD Oz rack pack.
I have the color coded BD neutrino's and Camp Nanos, I came across this set for a good price when I was doubling up my cams. Overall I am pleased with them they are much larger and actually lighter (than the neutrinos) but I'm not sure if the price difference is worth the cost of these biners. I don't understand why camp used the straight gate's for these as a bent gate would be much better for high stress clipping on your red point.. Besides that I usually always sling my placements long– which makes using these photons kind of overkill. Also– being a larger caribiner these tend to make your cams hang slightly lower. I guess I'm nitpicking too much at this point. They do clip nice and I do like the color quality of them, for example the green is a much better green than what BD uses.

I would say get these if you really love clipping rope straight into the racking biner, and/or you use half ropes, and don't mind spending more. If not just go with the smaller rack packs...