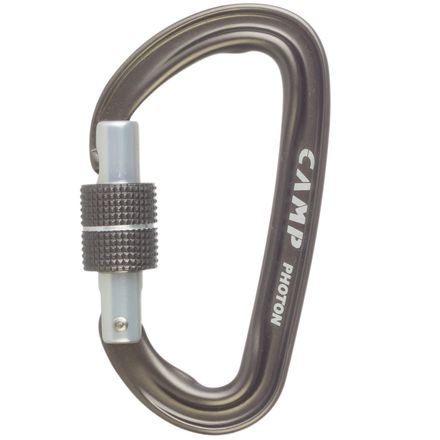 Colors

Community Images
Almost as light as its namesake, the CAMP USA Photon Screw Gate Carabiner fits right in with your rack and anchor gear. Boasting the title of CAMP USA's lightest 'biner, the Photon Screw Gate lends burly strength ratings to whatever system you may be rigging.
It works
Familiarity:

I've used it once or twice and have initial impressions
It is lighter and requires fewer turns to unlock as compared to the Black Diamond equivalent. It requires little effort to spin to unlock prior to my first use. It was difficult to unlock it when I was ready to remove my belay device after climbing for my first time. I assume I overtightened it.
Small and light
Familiarity:

I've used it several times
This carabiner is small and light. It works well for a variety of applications and I would recommend it to anyone.
Great, light biner
Gender:

Female

Familiarity:

I've used it several times
I typically use this for my personal anchor and prefer it to the BD positron which is my other go to small, light biner. It is particularly light, which is great for alpine routes and small to avoid crowding the master point. If you're looking for a belay biner I'd go for something else with more rounded edges (like a BD rocklock), as the squared edges don't pass rope as smoothly (as you'd expect). To get to Becky's concern below - I haven't had any issues with the screw lock jamming. Seems to screw open pretty easily so long as you don't over tighten.
It's ok...
Familiarity:

I've used it several times
These carabiners are pretty light, which is nice when things start to add up. I've been using them for my PAS to clean routes recently, and pretty much every time when I'm ready to rap down, the screw is jammed. Maybe it's just me over tightening it, but I've never had this problem with another carabiner.

At the end of the day, they get the job done, but I'll be switching them out.
New favorite biner
Familiarity:

I've used it several times
These things are fantastic.

They are feather-light and come at a good price

The nose is very narrow which reduces crowding at anchors

The screw-closer seems extra wide allowing for easy screwing/unscrewing.

I'll be using these as my new go-to anchor biners
Super Versatile
Familiarity:

I've used it several times
This biner is bomb. It weighs next to nothing, you can hardly feel them on your rack. The screw gate is super smooth (one flick of your thumb will completely lock the gate) they make for super secure connections. This is my favorite anchoring carabiner as the nose is thin and does not snag. The screw gate is low profile and holds strong, makes for a super safe clip in.



I carry these biners for top rope anchors and for alpine ascents. They are just a solid light locker!
All I use
Familiarity:

I've put it through the wringer
I replaced all my small lockers with these guys. Perfect for building anchors or clipping chains. The nose of the biner is so low profile you can fit 3 of them in one hanger and tight chain links are not a problem. I have 4 or 5 on my harness all they time and its lighter than the 3 lockers I used to carry.
amazingly light,
Familiarity:

I've used it several times
it's lighter than some of the wiregate carabiner I have. feather light, smooth screw.
Ultralight. Good bolt-side anchor binner
Gender:

Male

Familiarity:

I've put it through the wringer
It's ultralight and compact.



Drawbacks:

1. Paints ropes badly.

2. Has too big screw nut made from too soft aluminium. Try to not to allow rock/nut contact.

3. High friction when used as a rope-end anchor binner.



I have 4 of these on my harness to build anchors on bolted routes and for "just a case" usage - it's always good to have 2 extra lockers.
Not even there, but glad it is
I use this with the DMM Bugette as my ski mountaineering belay setup. Works great with my 8mm rando line and due to its small size and light weight I'm way more inclined to have it with me in the event that I think I may need to rope up for ski descents or sections of climbing in the alpine. Easy one handed operation even with gloves on.
This locker lives in the bottom of my pack with my CAMP Alp 95 Harness,DMM Bugette Device, and Beal Rando 8mm Dry Rope. This is an ultralight setup that is always in the bottom of my ski pack. These biners have a great hand feel and are nice and compact. Did mention that they are light? If you are getting outfitted for a wall and need a lot of lockers these guys are great.
When these are in stock, how much are...
When these are in stock, how much are they?
One unfailing axiom of climbing long routes, whether big walls or alpine pushes, is that you always seem to need one more locking carabiner. And ideally, the locker will be a keylock. Eliminating the notch in a carabiner, though it may seem insignificant, makes it much easier to remove a previously weighted clove hitch, work with tripled-up slings, and avoid other time-wasting frustrations. And as far as notch-less lockers are concerned, the Photon Screw Gate is simply the best.

At a scant 42 grams, the Photon weighs the same as many of the lightest wire gate carabiners of a decade ago. But with an aggressive knurling on the locking mechanism, and a true full-size gate opening, it is easy to manipulate in cold temps with gloves on or in situations when smaller lockers prove to be a complete pain.

Linking up routes in the Black Canyon of the Gunnison proved an ideal setting for the Photon Screw Gate. We'd packed a minimal rack and chose only smaller and lightweight lockers to compliment our Nano biners. With the constant need to build anchors, haul a bag, or clip a must-not-fail piece of gear, we had thrown a few extra Photon Screw Gates on our harnesses. Adding the extra weight is not where we went wrong. We didn't add enough and still ended up running out a few times! They are so light we never noticed we had them until we needed them, but we were super psyched every time we clipped them. Next time, we plan to take at least one more each.

**Blake Herrington is a CAMP sponsored athlete who tests the gear on alpine routes from the Pacific Northwest to Patagonia, then provides feedback for improvements or endorsements. This is one of many pieces of CAMP gear that have passed his test. Learn more about Blake by visiting the athletes section at CAMP-USA.com.