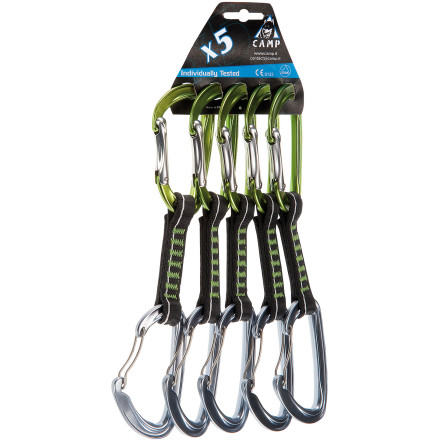 CAMP USA Photon Express Nylon 11cm Straight/Wire Quickdraw - 5-Pack
View Larger Image
It makes almost too much sense to double up a carabiner this light for your quickdraws. That's precisely what CAMP USA did with the Photon Express Nylon Quickdraw 5-Pack. Two Photon 'biners offer full size and strength ratings while combining with a nylon sling to weigh just 82 grams per draw. You may have to double-check your harness before leaving the belay station to make sure they're there.
Share your thoughts
What do you think of the
CAMP USA
Photon Express Nylon 11cm Straight/Wire Quickdraw - 5-Pack
? Share a...
Posted on
A lot of little issues
The bolt side biner feels flimsy. The dogbone is supposed to hold the wiregate side nice and tight but it stretches out pretty quickly so it can get pushed down and stuck on the gate. Not good. That said the wiregate is my favorite biner to clip into the rope side. Plus it's relatively light for its size.

I wouldn't buy them again. I'd just get the wiregate biners in the future.
Posted on
Dogbone doesn't stay centered on bottom biner.
I just ordered 2 sets of these and while there's something to be said about the lightness and design of the biners themselves (both the wiregate and the keylock), I'm disappointed by the way they work with the dogbones in the quickdraw setup. The narrow end of the wiregate (bottom) biner doesn't fit well with the tight end of the dogbone, and therefore easily shifts so that the biner ends up being loaded diagonally instead of hanging straight down. And not only that, but it seems likely that it could easily end up in the horizontal position, the nylon loop sliding over the wire gate itself, thereby cross loading the biner in the event of a fall. I haven't taken them out on the rock yet, so I don't know for sure if this would actually happpen, but it looks possible. I tried replacing the standard nylon dogbone with a skinny spectra one and it solved the problem, but now I've got to replace them all at considerable expense. The only reason I'm not too upset is because I got them on sale, but I'm still a bit annoyed that I have to pay to fix their design flaw.

Speaking of design flaws, one end of the wire gate where it's attached to the biner (which looks like the head of a pin) is so sharp it can cut your finger if you press hard enough. I've seen this on certain BD and Omega Pacific biners, but never as bad as the Photon. One reviewer said it tore up his doubled slings which is inexcusable. It seems to me that as long as you only use it with dogbones you shouldn't have a problem, but it still makes me a bit nervous.
Posted on
Great draws, make sure to pay attention to the wiregates
First off, these draws are great. Whenever my friends use them, I always get comments on how light they are and how easy clipping is. They look good, work well, and the gates open easily (but not TOO easily). The only thing to watch out for is that the bit where to wiregate connects to the nylon sling is pretty tight, which can cause the wiregate to turn sideways when they're jostled around and stay that way. I like the tight connection because it makes clipping easier - you just have to make sure to re-orient the wiregate biners to make sure they're straight when you're getting ready to start a route.